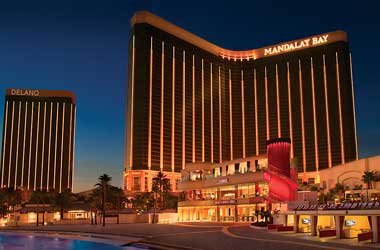 MGM Resorts International has reportedly come to an agreement with the victims of the October 2017 mass shooting perpetrated by Stephen Paddock from his 32nd floor suite at MGM's Mandalay Bay Hotel and Casino.
The estimated cost for the settlement is around $800 million.
The first reports of a potential settlement between the Mandalay Bay shooting victims and MGM was reported in October 2019.
Recently, the attorney in charge of handling the settlements for MGM, Robert Eglet, petitioned a judge to approve the settlement terms agreed upon with the plaintiffs, who hail from multiple U.S. states, as well as eight provinces in Canada, Ireland, Iran, and the UK.
The mass shooting victims were comprised mainly of concertgoers during the Route 91 Harvest music festival. Paddock fired from his suite at the Mandalay Bay Hotel and Casino, ultimately killing 58 people and injuring more than 800. Paddock killed himself before the police was able to apprehend him. Investigators have so far failed to ascertain Paddock's motive in enacting the worst mass shooting in recent U.S. history.
CBS This Morning
MGM Accused of Negligence
The plaintiffs sought compensation and punitive damages from MGM in a civil complaint running over 200 pages.
The plaintiffs held MGM liable for Paddock's shooting spree, as MGM failed to abide by their own safety regulations that prohibit stockpiling of assault-style weapons in their rooms. Paddock gradually built up an arsenal of over 20 of these weapons in his suite leading up to the October 2017 shootings.
The plaintiffs also accused MGM of failing to safeguard the music festival, which was attended by 22,000 concertgoers. MGM has not admitted any liability in the incident. They claim that they will be settling with the plaintiffs to prevent a prolonged legal struggle and help the victims gain some peace.
Clark County District Judge Linda Marie Bell is slated to announce a hearing to seek out any final objections on the settlement before it is undertaken.
$5,000 Minimum for Plaintiffs
Eglet stated that the plaintiffs who sustained the most serious injuries could receive millions of dollars, based on their age, kind of injuries, and number of dependents. Each plaintiff who filed a claim for their injuries but did not require medical attention or counseling will receive at least $5,000.
Eglet said that the payouts could be delivered by the end of 2020, if the original timeline is met. MGM is on the hook for $49 million, with the remaining $751 million to be shouldered by MGM's insurers.
About the Author