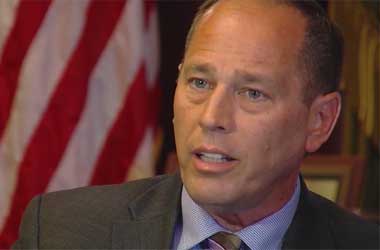 Joe Scarnati, the top Republican in Pennsylvania's state Senate, is currently pushing a gambling expansion bill alongside his colleagues that would legalize video-gaming terminals (VGTs). The bill and Joe Scarnati have received a lot of criticism as some believe that it would directly benefit one of Scarnati's top campaign donors who is a major lobbyist for a gambling firm.
The lobbyist via his company Golden Entertainment held a fundraiser for Scarnati last fall in Las Vegas, thousands of miles away from his home state.
Held at the Bellagio Hotel and Casino, the fundraiser charged $7,500 to $25,000 per guest, which gave them the chance to meet and greet Scarnati over cocktails and dinner, as well as attend a hockey game and play rounds of golf.
In the following months, Golden Entertainment, donated thousands of dollars to the campaign committee headed by Scarnati. Scarnati and his colleagues are currently mounting an offensive to court their fellow senators to vote for their bill, which would expand the reach of VGTs significantly. The estimated windfall from such a move is in the millions.
Scarnati's hush-hush campaign for VGTs comes at a time when the Keystone state is battling the COVID-19 pandemic, which has claimed 6,361 lives and gutted the economy. Pennsylvania is also in the midst of protests for civil rights and against police brutality. The state Senate could vote on Scarnati's bill this week.
Scarnati, who has made no secret of his upcoming retirement plans, is reportedly rushing to pass the bill before state legislators leave Harrisburg to prepare for the November elections. Joe Scarnati as well as Golden Entertainment refrained from any substantial comment on the issue. The lobbyist donor, Dave Thomas refused to address the issue directly.
Gaming corporations and lobbyists working for them have showered tens of thousands in donations to legislators in the months leading up to proposed expansion bill.
VGTs Controversial but Profitable
VGTs have long been controversial. They were approved in late 2017, but their use was limited to truck stops. Currently, 135 VGTs operate at 27 truck stops.
Truck stops generated almost $6 million in VGT-derived tax revenues last fiscal. Pennsylvania takes a 42% cut, with the host municipality taking 10%. A 52% tax on VGTs appears not to dissuade operators from seeking to expand their reach, a testament to the sheer profitability of VGTs.
Anti-gambling advocates and casino executives are in rare agreement that expanding the reach of VGTs beyond truck stops would be a bad idea. According to the advocates, Pennsylvania has already too much on its plate to expand VGTs, while casino executives fear that the VGTs would cut into their profits.
About the Author