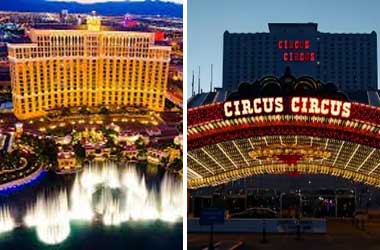 The signs of an economic downturn continue to increase with every passing day and major businesses are preparing for the coming storm. The gambling industry is expected to take a major hit in the event of a recession and a number of operators are taking steps to mitigate the risks of recession.
MGM Resorts announced that it has decided to sell two major properties in Las Vegas that will bring the company billions of dollars necessary to secure itself from any economic worries. One of these deals involves the sale of its Circus Circus Las Vegas property for $825 million. The buyer is an affiliate of Phil Ruffin who owns Treasure Island.
The second deal involves the popular Bellagio Casino resort which is owned by MGM and its partner Blackstone Real Estate Income Trust. This deal is a little more complication as the trust will buy MGM's Bellagio properties but will let MGM operate it with a lease agreement. MGM will sell the Bellagio for $4.25 billion and will retain 5 percent equity in the joint venture. MGM will have to pay close to $245 million in rent each year.
FOX5 Las Vegas
Strong Benchmarks
These are two very impressive deals and should be the benchmark for MGM if and when it wants to offload any of its other properties. Large gaming operators like MGM Resorts will be looking to streamline operations and be prepared to run a lean operation so that any economic weakening will not affect its operations significantly.
Circus Circus was a non-core property so it was fine to sell it for a good price, while the Bellagio deal was very important to the company as it brings in vital funding. The Bellagio entered MGM ownership back in 2000 when Mirage Resorts merged with MGM and it has been a flagship property since then.
MGM Resorts Having A Strong 2019
Right now, MGM has a very strong portfolio of properties and holdings. This includes MGM Grand and MGM Springfield, along with a 50 percent stake in CityCenter and 68 percent financial ownership in MGM Growth Properties.
In a statement, Jim Murren, MGM Resorts CEO said
These transactions enhance the company's strategic and operational flexibility and reinforce its commitment to targeted new growth opportunities, including securing and investing in one of the integrated resort licenses in Japan and becoming an industry leader in sports betting in the U.S.
Investors seem to agree with the steps that MGM has taken as share prices went up after the deals were announced. MGM Resorts is continuing to have a good year as share prices have increased by 15 percent in 2019.
About the Author