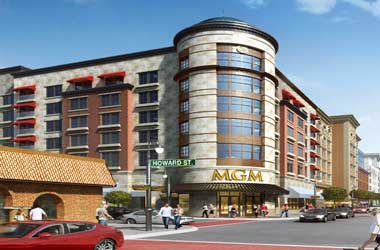 The City of Springfield, Massachusetts will have a big day on Friday, August 24th as the city will open the doors to the first mega casino resort in the state. MGM Resorts has invested $960 million to develop its integrated casino resort and has confirmed plans for a grand opening.
A parade that includes the "Budweiser Clydesdales", hundreds of MGM Springfield employees, as well as local dignitaries will march from the corner of State and Main Streets to the new resort will take place. The doors to the casino resort will officially open to the public from 11am.
MGM Springfield initially had a budget of around $850 million but MGM Resorts pumped in a lot more in funding to develop this mega casino resort which takes up 3 city blocks, boasts 2 million square feet of space which includes a hotel and 125,000 square feet of gambling space. The massive casino will be home to around 2,550 slot games and 120 gaming tables. There is also going to be a poker room with 23 poker tables and a swanky gaming area for VIPs.
MassLive
A huge framed picture that shows every member of Springfield's Free and Accepted Masons Lodge in 1888 hangs in the middle of the casino. The décor pays tribute to the city's history and is unlike any Las Vegas casino. The casino floor is surrounded by full-menu restaurants, a few bars, and event space. There is also a bowling alley and an eight-screen movie theater.
Unlike traditional casinos that have limited entrances which force people to pass through the gaming floor, the MGM Springfield's casino has at least a dozen entrances that give customers easier access to all of the other amenities.
A Nice Head Start
As the first resort casino in Massachusetts, MGM Springfield has a good head start at building their customer base. Wynn Resorts is building a $2.5 billion resort casino in Everett but it isn't expected to be open until June 2019. Springfield's chief development officer, Kevin Kennedy hopes that the new resort will attract visitors and reinvigorate the local economy which has been suffering in recent years.
MGM Resorts has had to battle and go through a number of challenges in securing a license and then getting MGM Springfield up and running. The casino has faced a lot of opposition from anti-gambling operators but has put in place responsible gambling measures to ensure that problem gambling does not become a cause for concern at the casino resort.
About the Author