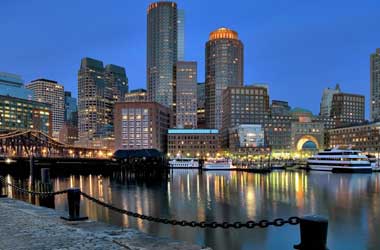 The Massachusetts Gaming Commission (MGC) has taken a cautious approach regarding reopening its casinos amidst the COVID-19 pandemic. After much deliberation this week, the MGC has decided to proceed with the reopening of its state casinos but with many restrictions.
The MGC has given Encore Boston Harbor, Plainridge Park and MGM Springfield the green light to proceed with their reopening's. Casino operators are happy to finally be able to get back to business but will need another 10 to 14 days to get up and running, given the fact that they now have to comply with a number of new regulations imposed by the state gaming regulator in light of the corona virus pandemic.
CBS Boston
These casinos are likely to open their doors to the public towards the end of June or in early July. There will be no poker games, craps or roulette games at any of these casinos. Operators will also have to limit the number of patrons who come into the casino in order to maintain proper social distancing measures.
These new limitations on the number of patrons allowed on the gaming floor, make it difficult for casino operators to run a profitable operation. Given the fact that they have now been out of business for over 3 months, they are keen to get back into business as usual mode but it does not appear that this will happen any time soon.
Multiple Rules To Be Followed
Casino operators will have to ensure that they only allow 3 players at a time to play table games. They will need to install plexiglass dividers that are 6 foot high to separate the dealers and the players; provide a lot of hand sanitizers and signage to encourage players to use hand sanitizers regularly.
They will also have to sanitize chips, counters, touch screens, slot machines and gaming machines to keep their player safe. When it comes to the cashier, players will only be able to receive their money in a closed envelope. Dealers will have to change their deck of cards more often in order to be more cautious.
While there are many different protocols and rules being imposed, it is going to be difficult to follow based on what's happened with casinos in Nevada and New Jersey. They have found it difficult to control patrons and get them to follow rules consistently.
About the Author