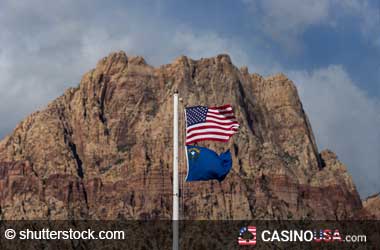 The Nevada gaming industry is one of the backbones of the state economy and it has taken a big hit because of the recent shutdown over COVID-19.
Now, the Nevada Resort Association has released some info detailing how much it is going to cost the state to recover and how long it will take to get back on its feet.
In a recent letter, the trade organization predicted that a 30 to 90-day shutdown of operations will result in $39 billion in losses and require a year and a half for recovery.
This frightening estimate has the trade organization appealing to Nevada's state government to have the gaming industry be part of the planned $850 billion to $1 trillion federal economic stimulus package that is in the works in Washington. It doesn't help that the shutdown cripples Nevada's economy because of the state's dependence on tourism.
KPIX CBS SF Bay Area
Virginia Valentine, president of the Resort Association tried to put things into perspective by stating that Nevada is more reliant on its tourism industry than New York is on its financial industry or Detroit is on auto manufacturing. The numbers don't lie. Nevada generated $12 billion in casino revenue last year, with Las Vegas contributing more than half that number.
An economic assessment of the Nevada economy points out that the state's economy lacks diversity and is dependent on tourism and gaming. 40 percent of Nevada's state funds come from gaming and tourism while 450,000 jobs are dependent on it.
With the casinos being shut down from COVID-19 fears, the Nevada economy is on the verge of being crippled. The industry now risks losing $39 billion over the next year and a half. It also means that the 320,000 workers in the industry are now at risk.
Massive Shutdown
Nevada casinos have been closed since last week. MGM and Wynn Resorts were the first to announce that they were shutting down their properties. The next operators to close their doors were the Cosmopolitan of Las Vegas and Las Vegas Sands Corp. Finally, Nevada Governor Steve Sisolak ordered a 30-shutdown of all casinos statewide.
According to the casinos, they will be paying their employees through closure. Many of them have already borrowed billions of dollars to fund their payrolls and healthcare coverage. The US gambling industry is also being damaged, with 92 percent of casinos being shut down though the online casino market will largely benefit.
About the Author