BingoFest
Bonus Offer:
$20 Free + 25 Free Spins
Available Games
Slots
Video Poker
Bingo
Keno
Features
Instant-play games
Hefty welcome bonus
Round-the-clock live chat
Cryptocurrencies accepted

BingoSpirit
Bonus Offer:
$10 Free + 30 Free Spins
Available Games
Slots
Video Poker
Bingo
Keno
Features
Huge Bingo Game Selection
US Player-Friendly
Great Promotion Selection
Loyalty Program Available

CyberBingo
Bonus Offer:
$20 Free + 50 Free Spins
Available Games
Slots
Video Poker
Bingo
Keno
Features
Great Selection of Bingo Games
No Deposit Bonus
Accepts Crypto Payments
24/7 Customer Support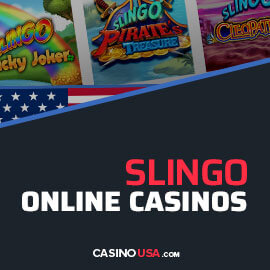 Origins of Slingo
The game might not be as old as you think. A New Jersey real estate developer, Sal Falciglia Sr., came up with slingo in 1994 and branded a company under the name Slingo Inc., allowing him to develop and market games with similar characteristics and themes.
How did Falciglia come up with the game? Well, he wanted to incorporate two of his grandfather's favorite games into a single dynamic experience. He started by modeling a 1950s slot machine. Although not an easy feat, Falciglia redesigned the slot game to spin the reels and arrange them to match the numbers of a 75-ball bingo game.
The initial game allowed players 20 spins to match the 25 numbers on their bingo-style cards. However, the game came with a twist of three additional symbols:
A devil that could cut your score in half
A joker wild card
A cherub that represented some sort of punishment.
It didn't take long for Falciglia to realize the game's potential, so he took it to a computer developer for further enhancements. Within two days of pitching it to AOL, he signed a contract to take slingo online on their platform, and the rest is history.
Since then, we have seen many different slingo variations. The game is now available on various social networks, through apps, and other online gaming portals. Thanks to today's technology, slingo only grows in popularity as developers add to it and provide new versions that appeal to a broad spectrum of players. It represents a recognizable theme that players come back to repeatedly.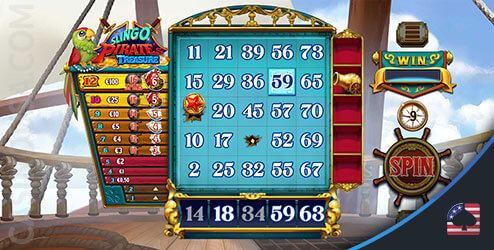 How to Play Slingo
If this isn't your first rodeo, you know how slots and bingo games work. Both formats are well-known among beginners and active players, so you shouldn't expect anything out of the ordinary when it comes to slingo.
The basic slingo comes with a standard 5×5 grid with 25 random numbers drawn from the traditional 75-ball bingo game. At the bottom of the screen, you'll see a single-line mechanism that will spin to display five random numbers. Most games allow you ten spins to mark off as many numbers on your grid. The idea comes from the classic bingo game where players mark off their numbers on a bingo card as the caller announces them.
As you create winning lines, you accumulate points, with your total points at the end of the ten spins paying out a specific cash prize.
As this is a fast-paced, luck-based online game, you can always find variants with different symbols and bonus games. A common theme we previously mentioned is derived from the original Slingo game with the joker and the devil. For example, three or more jokers bring instant cash prizes, while a super joker allows you to mark any number on the grid. On the other hand, the devil symbol will block a number from matching up.
Moreover, creating horizontal, diagonal, and vertical wins brings additional points during the game. The player with the most points wins the grand prize in a competitive format. Naturally, all of this depends on the variant you pick.
Slingo's Key Features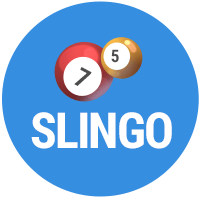 As we mentioned, the basic slingo game has a 5×5 grid that allows a certain number of spins per game, typically ten. However, the actual number will vary depending on the game's action. Although you can expect different prizes, some things remain the same regardless of the game.
So, here's what novice players should know:
A wild card or a joker allows you to mark off any number on a specific grid column.
You'll need a super joker to mark off any number anywhere on the grid.
You'll receive an instant money prize by landing three jokers/super jokers.
A coin symbol awards an instant money prize.
A free spin symbol allows for another free spin.
Aside from this basic slingo game, you can also come across a speed slingo game and a progressive slingo game. The former relies on players' speed as it requires them to complete as many lines as possible in a given amount of time.
The faster you finish, the better the prizes. The latter game version is self-explanatory — it is a progressive prize pool that grows with every win. As more people play, the prize pool expands.
Is Slingo Better Than Bingo?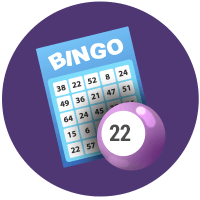 Although derived from bingo, it's hard to compare these two games as each has its advantages and disadvantages. Bingo might be more popular worldwide and appeal to a broader audience, but slingo brings the fun factor that some players might argue bingo lacks. What they have in common is the bingo aspect of calling out numbers and ticking them off on your card.
However, slingo is much more action-oriented and introduces a lot of fun and straightforward play. We have yet to see slingo reach bingo's popularity, but it's undoubtedly evolving globally. We cannot say one game is better, but you can conclude which one fits your preferences better.
In the end, give both a shot and see what happens!
Final Thoughts
Slingo has undoubtedly taken over the global iGaming scene thanks to its simple gameplay and innovative approach to gaming by combining two extremely popular playing styles. Whether you have previous experience or not, slingo is not hard to master, leaving players room to both have fun and experience something new and possibly come out on top with huge wins.
So, slingo is worth checking out. Read this article thoroughly before loading the game — it will help you navigate it better.
FAQ
What is slingo?
Slingo is a game that combines the mechanics of both slots and bingo. It has been around for almost three decades, and its loyal fans can attest to its unpredictability and excitement. It's taking the iGaming industry by storm, so make sure you're keeping up.
Who invented slingo?
Sal Falciglia Sr., a real estate developer from NJ, came up with the idea of slingo in 1994 and quickly pitched it to big platforms. Thanks to Sal, we can now enjoy this action-packed mix online.
How do you play slingo?
Slingo's gameplay is quite simple — you have to spin the reels and mark the numbers on your cards if those appear on the screen. A winning combo gets you great prizes, and additional bonuses and symbols can enhance your winning streak even more.
About the Author