BingoFest
Bonus Offer:
$20 Free + 25 Free Spins
Available Games
Slots
Video Poker
Bingo
Keno
Features
Instant-play games
Hefty welcome bonus
Round-the-clock live chat
Cryptocurrencies accepted

BingoSpirit
Bonus Offer:
$10 Free + 30 Free Spins
Available Games
Slots
Video Poker
Bingo
Keno
Features
Huge Bingo Game Selection
US Player-Friendly
Great Promotion Selection
Loyalty Program Available

CyberBingo
Bonus Offer:
$20 Free + 50 Free Spins
Available Games
Slots
Video Poker
Bingo
Keno
Features
Great Selection of Bingo Games
No Deposit Bonus
Accepts Crypto Payments
24/7 Customer Support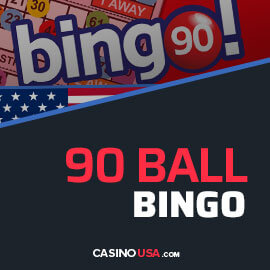 This article will analyze the rules of 90 ball bingo, how it differs from other versions, and provide you with some helpful tips to up your game.
What Is 90 Ball Bingo?
90-ball bingo is a fast-paced, entertaining and popular game, both online and offline. It requires players to mark off the numbered squares giving them three chances to win.
This may surprise you, but the first recordings of bingo date back to the 1500s. In 1778, a similar lotto-style game called Le Lotto was reported in France, although it's unknown whether they used the same 90-ball format. In this game version, players had to cover numbers ranging from 1 to 90, eventually leading to the invention of 90-ball bingo.
90-Ball Bingo Cards
Each 90-ball bingo card is generated into strips of six tickets containing a 3×9 grid. There is one strip per round, with numbers starting from 1 to 90. Players usually buy the whole strip, but they can purchase only one ticket, too. However, playing bingo with a single ticket reduces your odds dramatically.
Each ticket has 27 slots, 15 numbered and 12 blank ones, with the numbers distributed as follows:
1st column contains numbers 1–9
2nd column contains numbers 10–19
3rd column contains numbers 20–29
4th column contains numbers 30–39
5th column contains numbers 40–49
6th column contains numbers 50–59
7th column contains numbers 60–69
8th column contains numbers 70–79
9th column contains numbers 80–90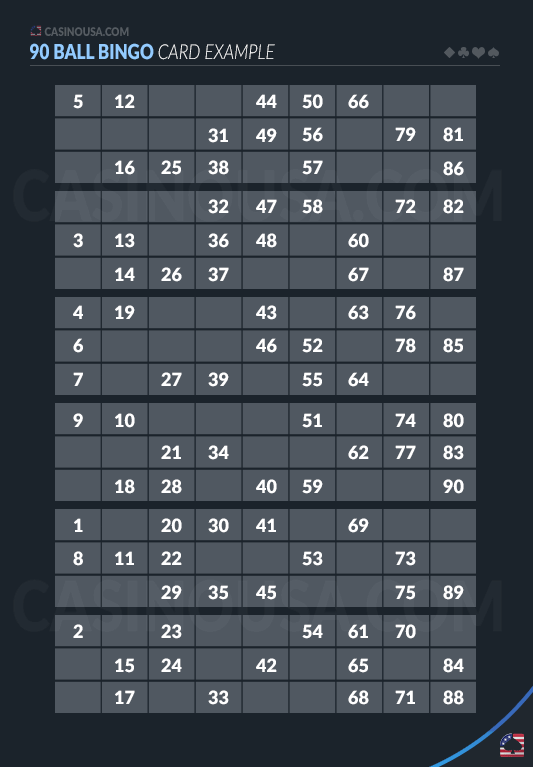 90-Ball Bingo Winning Patterns
Every bingo ticket gives you a chance to win three ways — one line, two lines, and three lines (full house). The first one covers all five digits in a line, and players will often shout this word once they mark off all five numbers.
Two line pattern is a bit more complex, requiring you to daub any two rows on a single card. Players must verify the one-line win first and then check the same ticket to see if they'll have a two-line payout.
Full house pattern, also called coverall, assumes that all 15 numbers on one ticket are checked, where the winners get jackpots and lucrative prizes.
In some instances, a player can collect all three prizes provided they were the first to complete all three patterns, but usually, every round has three different winners.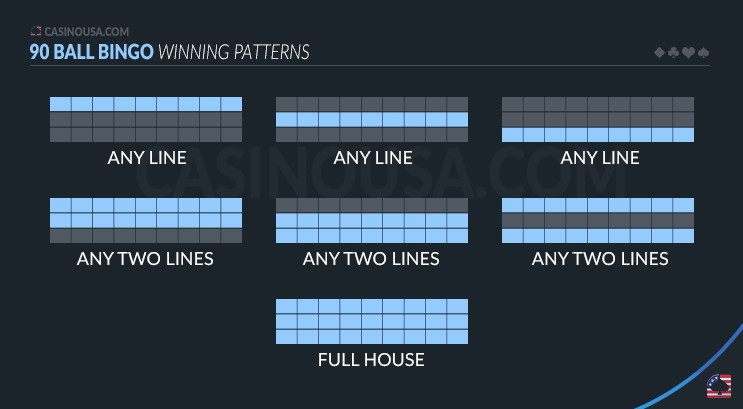 How to Play 90 Ball Bingo
Playing 90-ball bingo is super easy and similar to other types of bingo. Still, we'll go through the entire process from start to finish and guide you in case you are new to the game.
First, purchase a numbered ticket from your online operator of choice or a live bingo hall representative. The minimum number of cards is one.

Once the game kicks off, the caller will draw numbers randomly, one at a time, with no repeated entries. Online, a random number generator does all the work.

Each time a number appears, you must daub it. If you play multiple cards, stay focused and act quickly to avoid missing any calls. This is even easier with online bingo since the system auto-daubs the numbers. Then again, you can always opt to do it manually.

In a live hall, when you hit the winning combination, you must shout BINGO or LINE (depending on the combination). The staff will verify it, and you can continue marking off the same ticket. On the other hand, if you score a winning pattern in an online game, the session will stop for a while, and you will receive a message on your winnings and how to collect them.

At the end of the game, all players in the current bingo session will be notified of the three winners.

You can then discard your strip and start the next round with a fresh one.
It is important to remember the number of purchased tickets and their price affect the 90-ball bingo RTP — the higher the price and the more players, the larger the prize money. For this reason, many bingo halls and online providers attach guarantees to some of their games, ensuring the winners will receive at least a certain sum regardless of the number of participants.
90-Ball Bingo vs. Other Bingo Games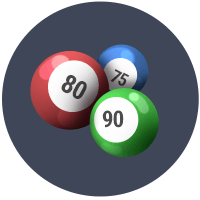 Although there are many variants, 90-ball and 75-ball bingo are the most popular. They might seem similar at first glance, but the two differ significantly. For starters, 75-ball bingo is favored by Americans, while UK players prefer 90-ball bingo.
75-ball bingo is played on a 5×5 grid containing 24 numbered and one blank slot in the middle. Compared to its 90-ball counterpart, which requires players to mark off the numbers to create a winning line, 75-ball bingo uses various patterns (over 300 of them) that are announced prior to every bingo session. The first individual to complete the pattern is the winner.
Another point of difference between the two games is that there can only be one winner in 75-ball bingo, as opposed to three in 90-ball bingo.
90-ball bingo is a game with most balls used during a game. Other variations have 80, 75, 50, and 30. It's also worth noting that this bingo game can feature three types of jackpots — fixed, progressive, and escalator jackpot.
Top 90-Ball Bingo Tips
Whether you play 90-ball bingo at a venue or online, it is crucial to familiarize yourself with the game's rules. Furthermore, if you choose to play online, you should know that every provider imposes a different set of rules, so make sure to read their terms and conditions.
Even though bingo is primarily a game of chance, pros suggest taking some steps to increase your winning odds.
Purchase Multiple Cards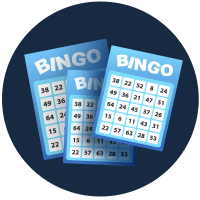 Rather than buying just one card per game, many individuals buy multiple.
Although it boosts your odds, staying focused is essential, along with having fast reflexes to mark all the numbers on each card. This is much easier online since the software does it for you automatically.
Play During Quiet Times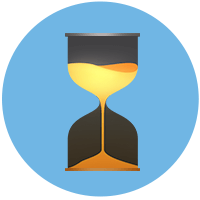 You will have a more challenging time winning if too many players buy the card for the same session as you. Thus, playing during off-peak hours would be best.
It is usually quieter in the mornings and weekdays in bingo rooms, so turn this advantage in your favor.
Keep an Eye Out For Special Offers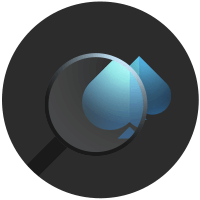 Each bingo provider offers unique promotions and games. Additionally, if you purchase one ticket, some sites will give you another one for free.
With these games, especially those that offer a guaranteed minimum prize pool, you'll get the most out of your bingo money.
Be Mindful of Your Budget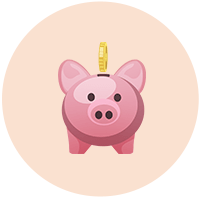 If you're on a tight budget, consider buying low-priced cards from your preferred provider. However, if you have a sizable bankroll, you should go for the more expensive games since they have higher jackpots.
Conclusion
Despite being massively popular in the UK, 90-ball bingo is available on a number of online bingo sites worldwide. It gives you up to three winning chances in each game, which builds up the tension and excitement as the game progresses.
It is ideal for those who enjoy classic bingo gaming and players new to the online bingo sphere. Newbies frequently get the opportunity to test the games for free, as many sites offer promotions at registration.
FAQ
What is the maximum amount I can win playing 90-ball bingo?
It is difficult to say because the amount constantly changes and depends on several factors, including the ticket price, the number of players who signed up for the game, whether there is a bonus attached to it, if it is played online or in a bingo hall, and so on.
Is it possible to win more than once in one 90-ball game?
Technically, it's not impossible to win more than once per game. There is a greater chance of success if more numbers are called on one ticket. Consequently, you can win on one or two lines or a full house.
How many numbers are called in 90-ball bingo?
The number of balls called in 90-ball bingo varies from session to session, so there is no set number. The balls will be called until a player announces their win. In general, one 90-ball bingo game lasts around 10 minutes.
About the Author