BingoFest
Bonus Offer:
$20 Free + 25 Free Spins
Available Games
Slots
Video Poker
Bingo
Keno
Features
Instant-play games
Hefty welcome bonus
Round-the-clock live chat
Cryptocurrencies accepted

BingoSpirit
Bonus Offer:
$10 Free + 30 Free Spins
Available Games
Slots
Video Poker
Bingo
Keno
Features
Huge Bingo Game Selection
US Player-Friendly
Great Promotion Selection
Loyalty Program Available

CyberBingo
Bonus Offer:
$20 Free + 50 Free Spins
Available Games
Slots
Video Poker
Bingo
Keno
Features
Great Selection of Bingo Games
No Deposit Bonus
Accepts Crypto Payments
24/7 Customer Support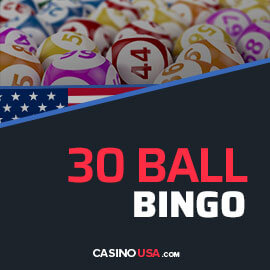 What is 30-Ball Bingo?
Many online casinos now offer 30-Ball Bingo, a faster-gameplay title featuring fewer balls than other bingo variations. The game is also called Speed Bingo because it ends in a few minutes.
Furthermore, tickets for this bingo version are affordable, starting at a few cents. Hence, 30-Ball Bingo is suitable for all players since it won't blow your budget fast.
30-Ball Bingo Game Card
The game card or ticket used for 30-Ball Bingo contains nine squares arranged in a 3×3 grid. There are no blank squares on the 30-Ball Bingo card, and the numbers on the grid are randomly selected. Every ticket follows a specific pattern for distributing the numbers from one to 30 so players can keep track of the draw. The numbers are grouped in the following way:
1st column — Three numbers from one to ten
2nd column — Three numbers from 11-20
3rd column — Three numbers from 21-30
You can purchase more than one ticket to increase your winning chances, but always check the maximum number of cards you can use per game. Depending on the site, you may be able to choose specific numbers for your bingo card or purchase computer-generated random tickets.
30-Ball Bingo Gameplay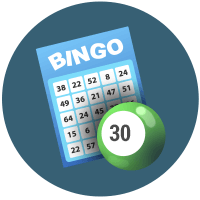 To win at 30-Ball Bingo, you must be the first one to get the so-called Full House and cross off all nine numbers on your ticket. Once the game starts, the system will randomly call out numbers. Usually, the computer automatically marks the drawn number on your ticket, but you may still come across sites allowing players to mark the numbers manually. When the game ends, the system will check all purchased tickets for winners.
30-Ball Bingo vs. Other Versions
The most obvious difference between 30-Ball Bingo and other versions like 75-Ball and 90-Ball games is the number of balls used for gameplay. However, this difference affects other game characteristics as well.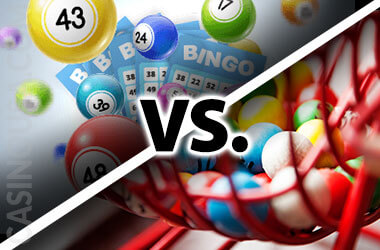 The number of balls in play impacts the gameplay speed directly. The game takes less time to complete, with fewer numbers to draw. Consequently, you'll have a chance to play more games per a certain time frame compared to other bingo variants and thus increase your winning chances.
The game tickets are cheap and don't require a large account top-up, so it's suitable even for players on a tight budget. In addition, 30-Ball Bingo has simple rules and requires minimal player interaction. You need to purchase one or more tickets for the upcoming game and choose whether to mark them yourself or let the system do everything while you lay back and enjoy.
If you wish to get involved and cross off winning numbers manually, you won't have much work since each ticket contains only nine numbered squares. However, if you buy multiple tickets, it may be better to have the computer mark them for you. If you go for the latter, you can even play other games or do whatever pleases you while the 30-Ball Bingo action takes place in the background.
Conclusion
Bingo fans with little time for their favorite game will find 30-Ball Bingo quite appealing. The game is fast and easy, and tickets are inexpensive, enabling you to play more games and ramp up your winning chances without breaking the bank.
Now that you know all about 30-Ball Bingo, check our website for the top sites offering this title and never miss an opportunity to squeeze a bingo game into your hectic daily schedule.
FAQ
How is 30-Ball Bingo different from other bingo variants?
30-Ball Bingo features fewer balls compared to 75-Ball or 90-Ball bingo. Consequently, the gameplay is faster and allows players to participate in more games within a certain timeframe, increasing their winning chances.
Can I purchase more than one ticket for 30-Ball Bingo?
Yes, you can. Playing on more than one ticket can boost your winning potential, but always check the maximum number of cards you can purchase per game since some bingo websites have limits.
How many numbers are there on a 30-Ball Bingo ticket?
Each 30-Ball Bingo ticket contains a 3x3 grid with nine random numbers.
Is 30-Ball Bingo fair?
Yes, it is. The game is powered by random number generators, meaning the outcome can't be tampered with.
About the Author