BingoFest
Bonus Offer:
$20 Free + 25 Free Spins
Available Games
Slots
Video Poker
Bingo
Keno
Features
Instant-play games
Hefty welcome bonus
Round-the-clock live chat
Cryptocurrencies accepted

BingoSpirit
Bonus Offer:
$10 Free + 30 Free Spins
Available Games
Slots
Video Poker
Bingo
Keno
Features
Huge Bingo Game Selection
US Player-Friendly
Great Promotion Selection
Loyalty Program Available

CyberBingo
Bonus Offer:
$20 Free + 50 Free Spins
Available Games
Slots
Video Poker
Bingo
Keno
Features
Great Selection of Bingo Games
No Deposit Bonus
Accepts Crypto Payments
24/7 Customer Support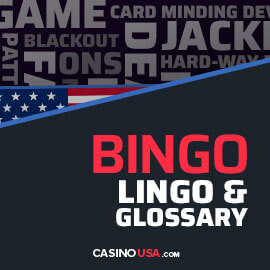 Bingo-related expressions are aplenty — but don't worry; we've got you covered. We've created a list of terms commonly used in bingo to help you get started.
So, let's get right to it!
Bingo Dictionary of Expressions
Here are some key words and phrases that you should know if you plan on making a name for yourself in the bingo world.
Admission Packet
An admission packet represents the minimum number of cards you need to buy in order to participate in the game. These usually contain 6 to 12 cards, depending on the bingo hall and online title you opt for.
Blackout
This represents a pattern in which you need to cover the entire card. Usually, the host would need to call out 50, 60, or 75 numbers for you to fill the whole card. This is also called a coverall.
Bonanza Bingo
Bonanza bingo is typically the 13th game in the session. Interestingly, 45 numbers are called beforehand and marked on the cards that players have now set aside. The countdown begins with 48 numbers or less and increases by one number each week. It stops once 52 numbers have been reached or once someone wins. The jackpot amount is established by the number of cards sold for that particular game.
Break Open
It is also known as the multiply card, and it is completely made out of paper. It comes with break open tabs. You can also use this name for an instant ticket or a pull tab.
Card Minding Device
As the name suggests, this device (electronic, mechanical, computerized, or electromechanical) is linked to the equipment that conducts a bingo game.
Cut
A cut shows which way a bingo card will be cut from the master sheet. It can be vertical, horizontal, or square.
Dauber
If you decide to play in a bingo hall, you'll need a dauber — a foam-tip pen that you use to mark the numbers. Some call them dabbers, dab-o-ink, or ink makers.
Deal
A deal is a standalone game or set of pull tabs with the identical serial number.
Face
A face is a bingo sheet that has 24 numbers and a blank area in the center.
Free Space
The blank area we've mentioned above refers to the free space in the middle that does not contain any numbers. You can look at it as a wild or a joker that can help you win by creating the required pattern.
Hard-Way Bingo
This is a straight-line pattern with no free space.
Jackpot
This prize is typically awarded for completing a challenging pattern, like the blackout.
Money Ball
The money ball represents the number typically drawn at the start of the game. A player's winnings will be doubled if they score a bingo when that number is called.
Ons
Ons denotes how many bingo faces are on every sheet. For example, a 5 ON has five faces per sheet.
Pattern
A pattern represents the shape that must be covered on the card using the numbers that are called out. Basic patterns include vertical, horizontal, or diagonal lines.
Postage Stamp Pattern
This pattern requires you to line up four numbers to create a postage stamp layout (2×2 grid) in one of the card's four corners.
Progressive Game
This game type is a seal card game with a designated jackpot, which is carried over to the next round if not won. This continues until a player wins.
Pull Tab
A pull tab uses a paper card with tear-off break-open tabs or a folded/banded paper ticket. Its face is covered to hide a number, symbol, letter, or combination of them. Occasionally, prize-winning markings are designated in advance. Tickets that use a seal card are included in this category.
Seal Card
A seal card is a board or placard used alongside tickets for charity games. When a seal (or seals) is opened or removed, you will find the winning numbers, symbols, or letters.
Speed Bingo
As you can tell by the name, this is a sped-up version of bingo, where the numbers are announced quickly, allowing the players to win in only three calls. This game is typically played prior to or following the regular bingo game.
Tab Wizard
This represents a point of sale system that helps operators with the pull tab management. It is also the most widely used system of this kind in the US.
Ups
Ups is the number of bingo sheets needed to make a bingo book. For instance, a 7 UP means your book has seven sheets of bingo paper.
Wild Number
The wild number is determined by the first number called — for example, if the number 41 is called, then all numbers ending in 1 should be marked off. This number is played on a double bingo leading to triple bingo.
Most Popular Bingo Lingo
If you're still not sure you'll understand all the terms your competitors are using, you might need to expand your bingo lingo further:
Eyes down — This expression is used when the caller wants to remind the players to keep their heads down and look at their tickets when the game is about to start.
Lights out — As you can probably guess, this means that the last game of the night is about to start.
Roomies — The term stands for fellow online bingo players in the chat room.
Full house — This is used when a player marks all of their numbers and wins the big prize.
TG — This abbreviation stands for "to go," and it indicates how many numbers a player needs to mark before winning. For example, 3TG would mean that a player is missing only three more numbers.
Common Bingo Calls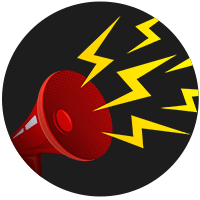 Here are some common bingo calls that you need to know before heading to a bingo hall.
Kelly's eye (1) — Named after an Australian outlaw with one eye
One little flea (3) — Looks like a flea when looking from the side
Doctor's orders (9) — Number 9 was a common calling for a laxative during WW2
Legs eleven (11) — Looks like a pair of legs
Dancing queen (17) — Taken from an ABBA song
Coming of age (18) — Quite self-explanatory
Halfway there (45) — Halfway to the total of 90 numbers in bingo
Bull's eye (50) — Used for the number of points awarded when playing darts
Bunch of fives (55) — Old boxing expression
Stop work (65) — Standard retirement age
Two fat ladies (88) — Two 8s mimic two curvy ladies
Final Thoughts
These expressions are more commonly used in bingo halls than online, but you'll find them helpful either way.
Any seasoned player will tell you that it's better to be familiar with this glossary and lingo than to be caught off guard. You can even bookmark this article to have it handy when playing online. Good luck!
FAQ
What does a blackout mean?
A blackout signifies a move that requires you to mark off the entire card of numbers. This is an extremely challenging maneuver but one well worth it due to the large prizes it carries.
What is a money ball?
This number is called out before the game starts, and if bingo is called on this number, the player's winnings will be doubled.
What should I do when the host calls "lights out"?
Nothing really, except prepare for the last game of the night.
About the Author