BingoFest
Bonus Offer:
$20 Free + 25 Free Spins
Available Games
Slots
Video Poker
Bingo
Keno
Features
Instant-play games
Hefty welcome bonus
Round-the-clock live chat
Cryptocurrencies accepted

BingoSpirit
Bonus Offer:
$10 Free + 30 Free Spins
Available Games
Slots
Video Poker
Bingo
Keno
Features
Huge Bingo Game Selection
US Player-Friendly
Great Promotion Selection
Loyalty Program Available

CyberBingo
Bonus Offer:
$20 Free + 50 Free Spins
Available Games
Slots
Video Poker
Bingo
Keno
Features
Great Selection of Bingo Games
No Deposit Bonus
Accepts Crypto Payments
24/7 Customer Support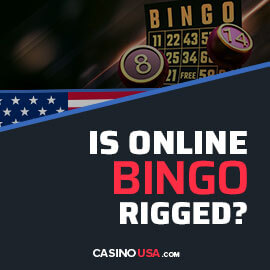 Even though online bingo looks the same as actual bingo, you're not watching the real balls roll. Plus, you don't have a live stream of someone taking them out of a drum.
Consequently, it can seem like the game is easy to rig. However, that's not the case for one simple reason — online bingo uses random number generator (RNG) technology to ensure fairness.
Bingo RNG Mechanisms Explained
A random number generator is an algorithm used in various applications (including casino games and bingo) to ensure randomness — and, consequently, fairness.
RNGs are made to mimic real objects like coins or dice. In other words, they factor in actual randomness or natural entropy into their equations. This includes things like surface flatness, wind direction, angle of throw, and more, depending on what the game they are built in requires.
However, there are also pseudo RNGs that don't factor in natural entropy. Instead, they use short values that pass through complex equations to simulate randomness. This is not genuine randomness, but it's close enough to ensure fairness. 
Gambling Jurisdictions
Besides RNGs, gambling regulators, such as the UK Gambling Commission, Malta Gaming Authority, Curacao eGaming, and many others, ensure the sites operating the games are fair. 
When a bingo site has a particular gambling license, you can be sure that it meets all the requirements this authority has set. Every legitimate regulator requires gambling sites to employ the necessary measures that ensure fair experiences for the players. This also includes games made with RNGs. 
Additionally, the license ensures the site honors payouts. That way, you can expect to receive your winnings as long as you respect the rules of the casino. 
You can check which license the platform holds by looking at the site's footer. There, you'll find the licensing information and validation numbers, which you can verify on the site of the regulatory body. Some bingo sites even include a clickable logo, which will take you to the official site and show whether the license is valid.
Independent Software Testing Agencies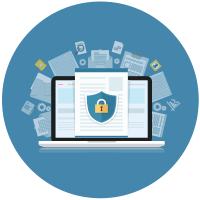 Some bingo sites want to prove their fairness through a transparent business model that includes regular audits. In fact, many licensing bodies even require them.
Security and fairness audits are performed by independent third-party agencies that are well-known in the iGaming world. Gaming Labs International (GLI) and eCommerce and Online Gaming Regulation and Assurance (eCOGRA) are among the most prominent ones.
If the bingo platform cooperates with one of these organizations, they'll proudly display that fact on their site. Once again, you'll typically find that information and the corresponding logo in the footer.
Conclusion
Online bingo is easy to rig, but only on unlicensed sites that use games without proper RNG algorithms. If you're playing on legit sites whose games use RNG technology and are regularly audited by independent agencies, you have nothing to worry about. 
FAQ
Can you really make money from online bingo?
There is no need to worry as long as the game and the platform you are playing on are legit. If the site is licensed, you can expect the games to be random. As a result, every player will have an equal chance of winning a large payout.
How to win at online bingo every time?
Online bingo is a game of chance, meaning there's nothing you can do to win every time. However, you should still learn how the game works and follow some tips and strategies to ensure you have the best chances.
Can players cheat at online bingo?
Just as legit bingo sites can't rig their bingo titles, players can't cheat. You'd have to hack the whole system and get past the site's security features. This is effectively impossible to do.
How do bingo sites make money?
Most bingo sites make money in the same way as brick-and-mortar bingo halls — through ticket sales. Sites that offer other games make money off of them as well.
About the Author