BingoFest
Bonus Offer:
$20 Free + 25 Free Spins
Available Games
Slots
Video Poker
Bingo
Keno
Features
Instant-play games
Hefty welcome bonus
Round-the-clock live chat
Cryptocurrencies accepted

BingoSpirit
Bonus Offer:
$10 Free + 30 Free Spins
Available Games
Slots
Video Poker
Bingo
Keno
Features
Huge Bingo Game Selection
US Player-Friendly
Great Promotion Selection
Loyalty Program Available

CyberBingo
Bonus Offer:
$20 Free + 50 Free Spins
Available Games
Slots
Video Poker
Bingo
Keno
Features
Great Selection of Bingo Games
No Deposit Bonus
Accepts Crypto Payments
24/7 Customer Support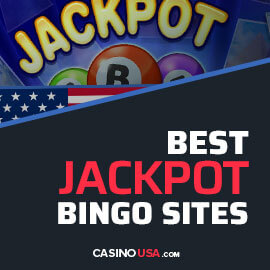 Our guide will explain how bingo jackpots work and which types you can come across when playing.
Different Types of Bingo Jackpots
Whether you play on an online site or at a live bingo hall, you are likely to find different bingo jackpots available.
Let's examine the four most common types.  
Fixed Bingo Jackpots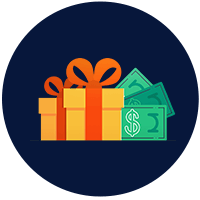 Fixed Bingo Jackpot features the standard prize pot that is always up for grabs regardless of how often it is won. This is the most common type of bingo jackpot in the gaming industry, and it has been around ever since bingo first appeared a few centuries ago.
To win this game, you have to be the first person to cross off all the numbers in a specified number of calls for the full house (the completion of all three lines in a 90-Ball bingo game). If nobody manages to do this, the jackpot goes unclaimed.
In most cases, you will know the exact jackpot amount before you sign up for it. Furthermore, the prize fund stays the same regardless of the ticket prices, the number of players in each game, and the time and place where the game takes place.
The only downside of this bingo jackpot is that you have to share the prize pot if there is more than one winner, which means you will get a smaller amount of money.
In an online bingo game, your account will be immediately credited with jackpot winnings.
Progressive Bingo Jackpots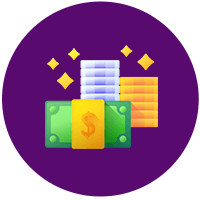 This type of bingo jackpot is undoubtedly the most popular one, mainly because it always features the largest prizes.
Progressive bingo jackpot can be won the same way as the fixed one, but there is one major difference — the jackpot prize amount increases each time a player purchases a ticket. The total amount can reach sky-high levels, which only adds to the thrill of this game. Once the jackpot is won and the win validated, the prize fund will be reset.
A few factors affect the prize pot of the progressive bingo jackpot, including the number of tickets sold, ticket prices, and whether the jackpot has recently been claimed. Contrary to the fixed bingo jackpot, the funds won will not be automatically credited to your account.
The main downsides of this game are that it takes a lot of time before the jackpot is triggered and that the prize amount resets when someone wins the game.
Community Bingo Jackpots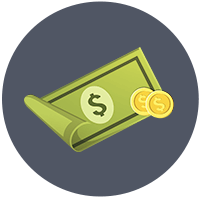 A community bingo jackpot is found across many sites and live bingo halls. It's split among all contributing players, and it can be shared in several ways.
Typically 50% belongs to the player who has hit the jackpot, while the other 50% is divided among those who have purchased the tickets in the winning bingo game but haven't scored the main prize. Sometimes, winnings are split 80/20, 60/40, and so on. Players are always informed of the ratio before buying the ticket.
It's worth noting that this type of jackpot can be played independently or attached to another jackpot, such as the progressive one. In the latter scenario, the sum can end up being quite large.
The community jackpot guarantees a win (even if you don't bag the full house yourself). Since you don't know how much you're going to get, it adds to the suspense and thrill, even if your prize is only a tiny portion of the pot.
Escalator Bingo Jackpots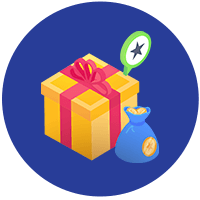 An escalator bingo jackpot is similar to a progressive one, as the pot increases until someone wins. However, with escalator bingo, players can snatch the jackpot only if they win the game within the specified number of calls. This jackpot is usually offered in a particular room or game over a certain period.
The ball count (number of calls) during which a player must win to activate the jackpot is low in the beginning. Thus, it is harder to score the jackpot at that stage. However, it increases over time (hourly or daily) — the longer it takes, the easier it becomes to win.
It's important to note that escalator bingo jackpots are not always available and are usually part of special promotions. In addition, some sites offer the same prize distribution as the community bingo jackpot, meaning the winnings are split 50/50.
Conclusion
There you have it — the four most popular and common bingo jackpot types you can try your luck at.
Despite sharing some similarities, each of them is unique in its own way. There is no right or wrong answer to the question of which is best — it's entirely up to you and your personal preferences.
If you like the idea of having better chances of winning, you can have a crack at the community bingo jackpot. However, if you are a thrill seeker, progressive bingo jackpots might be right up your alley. 
FAQ
Are bingo jackpots 100% luck-based?
Yes, they are. Bingo jackpots have always been luck-based — they don't require any special skills, which is why many people are drawn to them.
How do I trigger a jackpot win in online bingo?
Due to the nature of the game, you can never know when a particular jackpot can be triggered. The only thing you can do is buy bingo tickets frequently and play during slow times.
Can bingo jackpots reach a large amount?
Definitely — some can even reach seven digits, especially escalator and progressive bingo jackpots.
About the Author