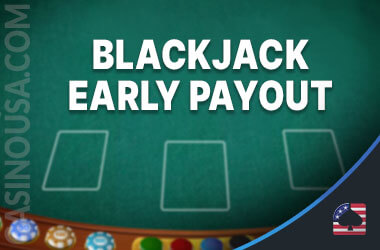 In a game like blackjack, you can never be sure if you will have a winning or a losing hand. Therefore, some additional option or a way out would come in handy when the latter happens.
Players always strive to find new ways to win hands and lower the house edge. One of the options in blackjack allowing them to do so is called an early payout. It lives up to its name, meaning that the players can take early payouts while the game is still in progress, without seeing their hand to completion. This way, the users can save a part of their initial bet.
Note: Payouts for this game go up to 99.5%.
Needless to say, this option could be profitable for the players who know how to use it efficiently.
Visionary iGaming has patented a game of blackjack with this feature. If you want to play it, you will have to go to casinos featuring this title. This variation was created in 2005, and it was designed as the first common draw to fit an infinite number of players at the table.
The Basics of Blackjack Early Payout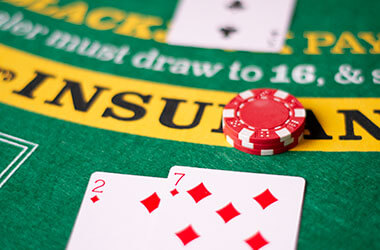 Just think, how many times has this scenario happened to you — you have an 18 or a 19 in your hand, and just when you are sure the win is yours, the dealer beats you with a 20 even though his upcard is 6. If only there was a way for you to get out of this situation while keeping at least a portion of your initial bet!
Well, this is where blackjack's early payout option kicks in. In case Lady Luck is not on your side, this alternative provides you with the opportunity to pull out of the game early. The casino will pay you for the hands you think you could win — not the full amount, though.
Still, you will have the chance to react and lock in the amount before the dealer turns their hole card upward and makes a move.
Note: It is important to know that the early payout ratio will not be 1:1.
It will depend on the cards you are dealt and the dealer's face-up card. If you have a weak hand and the dealer holds a strong face-up card, the payout will be lesser than your initial wager and vice versa.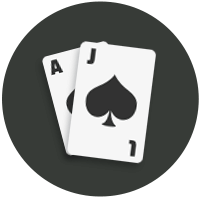 You are probably wondering if there is a catch. Of course there is. After all, a casino would never let you walk away with the odds in your favor. The biggest catch of an early payout is that the gaming platform predetermines the rates. This way, the operator also wants to lure those players with good hands to surrender and give up on their good cards.
You will also get a chance to make side bets both in classic online blackjack and in other variations of this game. Their purpose is to entice the patron to bet on certain combinations of cards that he could get as his two cards and the dealer's upcard. However, these bets have a high house edge — as a result, players lose more often.
Two of the side bets employed in Blackjack Early Payout are:
Perfect Pairs Side Bet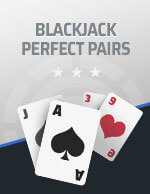 The players bet that the first two cards they have been dealt will make a pair.
There are three different types of pairs coming with different odds.
Rummy Side Bet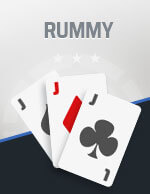 This is a combination of the first two cards the player is dealt and a dealer's upcard.
For this bet to be a winning one, the three cards need to be of the same rank or suit, or you need to hit a straight.
How Is Blackjack Early Payout Played?
If you want to play this blackjack variation successfully, you can simply follow the basic blackjack strategy, which represents a feasible way to predict potential winnings.
This is a 3-handed game, but it can be played by multiple players. Following the basic blackjack strategy will help you increase the odds in your favor. Since it has been mathematically proven that it works, you have to learn when to split, double down, stand, or hit. If you are not sure what your next step should be, there is a cheat sheet you can download on the internet. You will find the rules of the basic blackjack strategy in the sheet.
After placing their initial bets, the players receive two face-up cards. The dealer also gets two cards, but only one of them is an upcard. Upon receiving their two cards, the users choose to either follow the basic blackjack strategy or take an early payout. If you choose the early payout option, your payout will depend on the value of your and the dealer's face-up card. This may not be much for small bets, but the numbers add up for the high-rollers.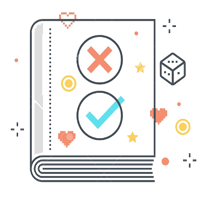 The players can go for the side bets we've mentioned earlier in this guide, along with their initial wagers.
Note: The payout ratio is 11:1 for the Perfect Pairs and 9:1 for Rummy.
Suppose you want to go for an early payout, you should first consider whether your hand qualifies for it. There are some hands you will have to play out. However, if yours is eligible, you should calculate how much of the initial bet you can get back.
Note: The payout will be substantially lower than winning that hand directly.
To illustrate that with an example — if you bet $5 and receive a hand of 18–20, the early payout amount may be as low as $0.20 per $1.
Taking early payout frequently only increases the house edge against the customers, and this is how casinos take advantage of this option.
Final Thoughts
So, does this take the original fun out of online blackjack? Perhaps. But it certainly has its pros, as well.
Firstly, an online casino does not have to worry about accommodating many players at a single table. Secondly, the house edge is minimized since this blackjack variation is played according to the basic blackjack strategy.
This is especially useful for those high rollers who are seeking a way out of a bad hand. Additionally, it gives the patrons more control over the gameplay, especially when they are trying not to lose too much too soon.
On the other hand, there are a couple of cons to Blackjack Early Payout. For instance, there is always a chance you could make a wrong call. On top of that, many players argue this way of playing lowers the risk and the excitement factor . Therefore, if you prefer playing it safe, this game is the right choice for you. Otherwise, you might want to look into some other blackjack variations.
About the Author