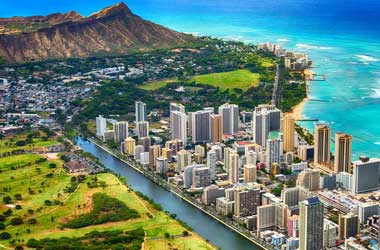 The push comes at a time when illegal gambling is an issue.
More than 7,200 illegal gambling rooms are in operation.
Lawmakers want to create a safe and regulated market.
Representatives John Mizuno and Daniel Holt of Hawaii recently introduced legislation to legalize poker and sports betting in Oahu, Hawaii.
The area is ripe with illegal gambling activity and both lawmakers would like to see the options offered in a secure and regulated market.
Huge Illegal Gaming Problem
A legal alternative is a must, especially considering the major issue with illegal gambling in Hawaii. Representative Holt serves areas of Kalihi which has a big problem with illegal activity. Currently, there are more than 7,200 illegal gambling establishments operating on the islands.
These facilities have been connected to prostitution and drugs, which is even more illegal activity that locals have to worry about. With a legalized market, it would create a safe space for players to gamble without the criminal element being involved.
The goal is that if legislation is passed, the illegal element will subside. Players would be able to freely gamble, without having to seek out illegal establishments.
Losing Out on Revenues
Along with creating a safe gambling environment, local municipalities would also be able to benefit from gaming. People from Hawaii are traveling to Las Vegas in large numbers, spending around a billion dollars annually in Sin City.
With a regulated market, Hawaii could maintain the funds as locals would not need to travel to gamble. Revenues from the industry could be used in a variety of ways including providing affordable housing for those in need.
The representatives proposing the plan would like to see a test conducted that involves small privately owned gambling parlors. These facilities would be taxed heavily and allowed to offer sports betting and poker gaming.
The venues would appeal to players who travel to Las Vegas and might help to reduce the pressure for legalization of gambling via online operators that function on a national scale. Such companies are expected to seek licensing in Hawaii and the representatives are not willing to budge.
Mizuno stated with the plan that he feels such companies as FanDuel and DraftKings do not need to come in as they would take all the money from the industry. The goal is to bring in companies that can provide gambling to residents and visitors and give back to the community.
Lawmakers would like to see funds from sports betting go towards helping gambling addiction needs. Money would also be set aside to help law enforcement shut down illegal gambling facilities.
About the Author