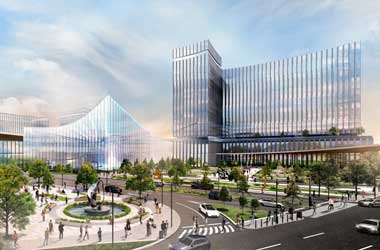 Summary
The company hopes to develop on the Nassau Veterans Memorial Coliseum site.
The bid includes a flagship hospitality, entertainment, and casino project.
Sands is hopeful its reputation in the casino industry helps secure the license.
Las Vegas Sands is throwing its hat in the ring when it comes to a casino license in downstate New York. There are three licenses up for grabs and the company is hoping to secure one for a brand-new developer on Long Island. Las Vegas Sands has plans to create a casino at the Nassau Veterans Memorial Coliseum site.
The Bid by Las Vegas Sands
The move by the gaming company comes just a few days after the New York Gaming Facility Location Board gave the go-ahead for licensing applications. Companies can now submit their proposals to consideration.
Las Vegs Sands would like to create a flagship property that offers hospitality, entertainment, and gaming. Agreements have already been made to purchase a lease for the site on Long Island long-term. There are approvals yet to be made on the transactions, but once completed, Las Vegas Sands would control close to 80 acres.
CEO and Chairman for Sands, Robert Goldstein, commented that the company's track record of providing economic benefits to local communities and creating meaningful partnerships and relationships with its projects gives them a unique perspective on what is needed to developer tourism destinations that will have a positive impact.
The property would be considered an integrated resort and would include outdoor spaces, hotel rooms with four and five stars, and a live performance venue. Restaurants featuring celebrity chefs are also included in the plans, plus ballrooms, and of course casino gaming.
What About the Competition?
Las Vegas Sands is not the only company to have submitted an application for a casino resort license. The company will face off against several other companies that are hopeful to be selected. Thor Equities along with the Chickasaw Nation and others have submitted a $3 billion plan to create a casino on Coney Island in Brooklyn.
Wynn Resorts and Related Companies are working together, with a plan to create a casino on a portion of Hudson Yards. Caesars Entertainment is also in the mix. The company has teamed up with SL Green to create a gaming destination in Times Square.
Steve Cohen, the owner of the New York Mets, is also in the running, working on a plan to bring a casino close to Citi Field. Owners of existing slot parlors also want to be considered. Resorts World and Empire City are going to submit bids for consideration.
It is expected that the two slot parlors will secure two of the three licenses. This leaves only one remaining license for everyone else to compete for. It will certainly be interesting to see which company is also go obtain licensing for a brand-new venue and where the casino will be located.
About the Author