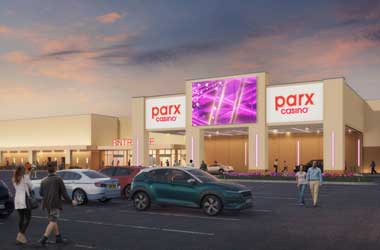 Summary
The new casino has Category 4 licensing.
Mini casinos are allowed to have up to 30 table games and 750 slots.
The Parx location is 73,000 square feet in size.
A new casino is coming to Shippensburg, Pennsylvania. Parx Casino has confirmed that its newest venue will open in just a few weeks.
The Category 4 site has a grand opening scheduled for February 3. The property was approved by the Pennsylvania Gaming Control Board and becomes the latest satellite casino to open in the state.
What is a Satellite Casino?
When changes were made to gambling legislation in Pennsylvania a few years ago, satellite casinos were included in the mix. These venues are given Category 4 licensing and are only allowed to offer a small portion of casino games. The venues must also be located a certain distance from full functioning casinos.
A satellite casino can offer only 30 table games and as many as 750 slots. The venues must be situated in a place that is over 25 miles or more from other casinos. So far, there are four satellite casino licenses in total. For the latest operator, the Parx Casino will be ran by Greenwood Gaming and Entertainment and offer 73,000 square feet of space.
The casino will open on February 3 and offer players 500 slot games and 48 electronic table games. The venues is allowed to offer more of the electronic table games since they are classified as a real money slot type option.
It is expected that the grand ceremony will be celebrated by locals and officials alike, as players get ready to visit Parx Casino, Shippensburg.
Growing the Casino Market in the Keystone State
The addition of the mini casino allows Greenwood to expand in Pennsylvania as well as opens up the gaming options in the state as a whole. Greenwood already offers the Parx Casino located in Bensalem and it is the most popular casino in the state.
The Bensalem venue earns the most revenues annually for the state and sees a steady influx of regular traffic. Operators are hopeful that the new mini casino will be just as successful despite its small stature.
Greenwood has waited quite some time to get the ball rolling on the mini venue. The company received the satellite license in 2018. The new casino will be the latest in the market, with Pennsylvania now home to 16 casinos.
The state also offers truck stop gambling with video gaming terminals. There are 65 truck stops with such options on offer. Players have access to sportsbooks with over a dozen retail options plus online sports betting and online mobile casino websites.
About the Author