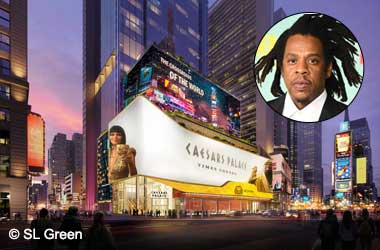 Summary
Rapper Jay-Z is now in the running for a casino in Times Square.
The three-way partnership should be officially announced today.
Caesars wants to launch a casino at 1515 Broadway.
According to recent reports, Rapper and entrepreneur Jay-Z is partnering with Caesars Entertainment and SL Green for a bid to launch a casino in Times Square.
The partnership should be announced today during an investor conference for SL Green, according to Realty Check and the NY Post.
The developer and Caesars had previously announced plans to offer a casino at 1515 Broadway, the office tower of SL Green. The trio are now among several groups that are expected to provide a proposal for the first full-scale casino license in New York City.
How is Jay-Z Involved?
It's easy to see how SL Green and Caesars would play a part in the launch of a New York City casino. But what would Jay-Z's role be? It's early still, but rumor has it that the rapper and his team at Roc Nation will oversee the entertainment programming of the casino property and additional properties operated by SL Green.
In a statement on the matter, Jay-Z said that New York is the epicenter of culture, and this is an opportunity to create a destination at the true crossroads of the world. He says that this is a commitment to economic opportunity, growth, and enrichment for the community as well as those who visit the state.
More Details on the Caesars Casino
Along with Jay-Z making a statement, SLG chief executive officer Marc Holliday has provided more information on the casino proposal. It has been known that Caesars and SL Green were interested but the details were light on what would be provided.
The property is titled "Caesars Palace Times Square" and it would cover eight floors of the tower owned by SLG. It would be located from West 43d and 44th streets. No gaming would be offered on the ground floor which would be used for non-gaming options like an entrance to The Lion King Minskoff Theater.
The casino floor will also offer the usual blackjack & roulette tables as well as restaurant dining and additional entertainment options. The casino is being promoted as a boutique style venue, offering around 250,000 square feet of gaming. This is quite small when compared to other properties such as those in Las Vegas or Atlantic City.
A new five-star hotel ais also in the plans, offering 800 guest rooms. The hotel would be located above the casino. While the project seems to offer quality options for NYC, there are those who are against the plans, including the Broadway League. The group has stated that a casino would be dangerous to the theaters. Those behind the proposal say that a casino will bring more visitors to the theaters.
About the Author