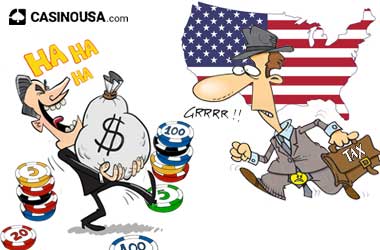 Summary
Americans wager around $511bn each year with illegal operators.
State governments are losing over $13bn in tax revenues each year.
The 2022 totals are higher than the $11.7bn spent in 2021 from legal gambling services.
While gambling is growing across the United States in the regulated sense, illegal services are still at play. Unregulated online casino sites, sportsbooks, and skill games are taking billions from residents and leaving states short on tax payments.
Operators that are not licensed are not subject to tax payments like their legal counterparts. Because of this, money is being lost in states across the nation.
Illegal Wagering Cutting into State Profits
A regulated and licensed casino site or sportsbook must pay taxes based on revenue earnings. This is how states make money from operations. With unregulated sites and providers, zero taxes are paid. Any money spent by residents to these illegal sites means less money in the pockets of the states.
It is estimated that around $13.3 billion in tax revenues are lost each year to illegal operators. In 2021, legal providers brought in just over $11 billion in tax payments. The illegal amount is far more than the legal payments made. The legal gaming industry loses over $44 billion in annual revenues.
Bill Miller, the CEO and AGA President, commented that the illegal and unregulated gambling industry is a 'scrouge' on the society. Such operators are taking advantage of vulnerable consumers and skirting the obligations that are set up by regulators. Communities are being robbed of tax revenues that can be used for education, infrastructure, and other needs.
Sports Betting and iGaming Report Findings
The AGA report "Sizing the Illegal and Unregulated Gaming Markets in the U.S" shows that Americans are wagering over $63 billion with illegal bookmakers when it comes to sports betting. This costs around $3.8 billion in revenues and $700 million in taxes. This year, it is expected that Americans will wager around $100 billion on legal sports, which means around 40% of the market is held by illegal operators.
The report indicated that around 49% of sports bettors have placed a wager with an illegal operator over the past year. Previous research revealed that over 50% of Americans bet on sports illegally but thought they were doing so within the legal market.
When it comes to online casino gaming, around $3.9 billion in tax revenues are lost each year. An estimated $337.9 billion is wagered via illegal sites annually. The illegal gaming market is almost three times the size of the legal market.
Online gaming is only legal in six states, which means that almost half of the Americans who played online slots or table games did so via an illegal site.
About the Author