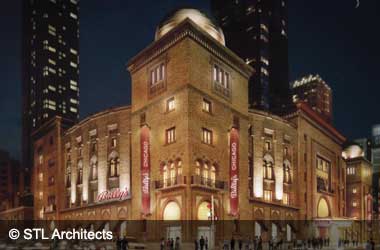 Summary
Residents are concerned about parking and crime.
The temporary casino will be placed at the Old Medinah Temple
A permanent casino won't be up and running until 2026.
Last night, Bally's Corporation hosted a meeting at the Voco Hotel to discuss the temporary casino that will soon be operational within the Old Medinah Temple.
The temporary structure would be located at Ohio and Wabash and offer gaming options until the permanent Bally's Chicago is open in 2026. Attendance was high at the meeting with residents showing concern over traffic issues and crime.
Residents are Concerned Over the Temporary Casino Location
The goal of the meeting was to discuss the project, including insight into the diversity and inclusion of the project. Officials noted that $4 million will be paid each year to the city once the permanent structure is operational. Half of this money will go to the general fund and the remaining would be set aside for a community benefits program.
While the positive information was presented, residents seemed more concerned about negative aspects. Those in attendance voiced their concern over parking and crime. Many in attendance feel that parking will be an issue. Officials said that a traffic study showed that there are thousands of spots that are offered near the Old Medinah Temple.
This did not seem to appease residents who feel that the area will become congested as patrons try to visit the facility. Those who are unfamiliar with the area may find it more difficult to park without a designated zone for vehicles.
Safety is also a concern. Those in attendance pointed out that with real money casino gaming come alcohol and spending. Residents fear that the venue may cause an increase in crime and want to ensure that those in the area will be safe. Locals want to know how the casino operator will ensure neighbors remain safe.
The opportunity for crime is there, just as with any new business. Executives from Bally's took the stage to discuss how the property would ensure player and local safety with individuals from the police department on hand as well. Both discussed how a partnership with the police and private security will help keep the local area safe.
This did not seem to be enough to persuade the locals that crime won't be an issue. Despite the concerns, it appears as though Bally's is ready to move forward with its temporary space. It will be interesting to see how well received the property is by the locals and if it becomes a hot spot for gaming in Illinois.
Hopefully, players and the neighborhood will remain safe and unaffected in a negative way by the introduction of casino gaming in the area.
About the Author