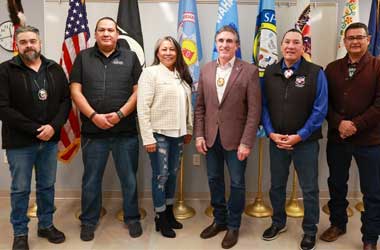 Summary
Mobile betting can occur within tribal lands.
Online gambling may eventually move to the entire state.
Legal changes are needed to make such changes to gaming laws.
Governor Doug Burgum has agreed to a tall order in the state, having signed new gaming compacts with five tribal nations in North Dakota (Turtle Mountain Band of Chippewa Indians, Sisseton Wahpeton Oyate, Standing Rock Sioux Tribe, Spirit Lake Nation and the Mandan, Hidatsa and Arikara Nation).
The governor agreed to several changes to gambling services, including allowing mobile betting within reservation lands.
The iGaming industry is limited at this time due to state laws. Additional changes would need to be made by the state house in order to allow gambling to move from simply tribal lands to the entire state.
Mobile Betting Included in the Gaming Compacts
Within the new gaming compacts, language allows for mobile betting within the boundaries of the reservation lands. This limits the industry considerably but is a step in the right direction for the online industry.
Additional language was not added to the compacts to allow for statewide gaming in the future. However, that is the eventual goal. The text of the agreements has language that would allow the industry to work towards that goal if state and federal law allows.
The tribes and the governor have been working towards the new compacts for quite some time. The governor stated back in November that the final drafts were being reviewed and that any statewide gambling services on an online scale would require changes by local legislators.
Governor Burgum did make a few comments that suggest online gambling may be on the table during the next legislative session. Work may start to include sports betting, other gaming options, and e-tabs.
Details of the New Agreements
There are other changes to the agreements aside from the mobile gambling section. The legal age of gambling on the reservations is going to change from 21 to 19 years old. Any player who has a military ID will be granted inside at the age of 18. This is the only younger age exception.
Tribes will soon be able to accept traditional casino payment methods such as debit and credit cards for any reason. This can include cashless and account wagering. The new agreements require the casinos to undergo a yearly inspection that the tribe must pay for. Additional visits by the state will be paid for by the government.
The tribes agreed to provide assistance for gambling addiction treatment along with education and prevention. A total of $25,000 will be spent in that regard. The tribe is grateful to have received help from tribal chairs and representatives to negotiate the compacts and look forward to benefiting from the gaming partnership signed with the state.
About the Author