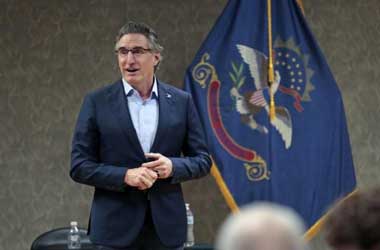 Summary
Governor says state law does not allow the tribes to have exclusive iGaming rights.
The state is endorsing the change for legal gambling age to 19.
Credit and debit cards will also be allowed for betting
American Indian tribes in North Dakota requested exclusivity when it comes to online gambling and sports betting in the state.
Governor Doug Burgum has shut down the request, stating that laws do not allow it. The governor did agree to endorse lowering the gambling age from 21 to 19 at casinos operated by tribes and provide patrons with credit and debit card wagering.
Hopeful for a Gambling Expansion
The tribes of North Dakota used new agreement negotiations to request a gambling expansion. The compacts with the state were first signed in 1992 and will expire at the end of the year. The tribes proposed that online gambling and sports betting be allowed throughout the state via mobile devices. Operations would function via servers based on tribal lands.
The compact allows gambling to take place within the boundaries of the reservations, but the governor does not agree that housing servers on the same lands is lawful. Gambling beyond tribal land is not allowed in North Dakota, however, a stipulation was added to the new agreement.
If the law changes via a state or federal level to allow online gambling, then the tribes would be allowed to offer such services. There is no doubt that a legislative effort will emerge next year to try and see legal changes come to pass.
iGaming Would Contribute Financially
The five tribes in North Dakota want access to online gambling and sports betting to assist with economic needs. The tribes rely on casino gaming and the venues are among their biggest employment opportunities for tribal members.
Funds from gaming help to fund social programs as well for those who live on the reservation. Back in 2017, as part of the gambling expansion plan, Las Vegas style pull tab machines were legalized to help charitable needs. So much money is going to these machines that the tribes are feeling the pinch.
In the 2022 fiscal year, the machines saw $1.75 billion wagers. Spirit Lake Indian Reservation has seen a large decline in revenues due to the machines and need another way to bring in cash flow.
On the opposite side, those who operate the pull tab slot machines argue that allowing tribes to offer online gambling would harm their sales. This year, charities should earn $75 million. This is more than double from 2020. Charities that benefit from the funds would lose out due to the ability for players to log online.
For now, the signed compacts go to the Legislative Management committee. The 17 member panel reviews the compact and then they move on to the US Department of the Interior for consideration.
About the Author