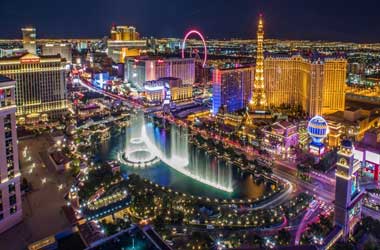 Summary
Fitch Ratings predicts drop in revenue for casinos on the Vegas strip
Gaming markets showing strong recovery post-pandemic will suffer bigger losses
Overall outlook remains positive with operators in good shape to deal with a pullback
Casinos on the Las Vegas Strip will experience a slump in gaming revenue in 2023 even after enjoying record-breaking figures over the past two years, according to Fitch Ratings – the investor advisory service.
Gaming markets throughout the U.S. could see their revenue drop by between 5 and 15 percent next year owing to multiple factors, including a possible recession in the country.
Revenue Decline for Las Vegas Strip Casinos
In particular, American gaming markets that already surpassed pre-pandemic revenue totals, including the Strip, would incur bigger losses in 2023. Fitch issued the analysis following the Global Gaming Expo (G2E) convention in October which was attended by an estimated 25,000 guests and representatives from the gambling sector.
Strip casinos are poised to enjoy their second straight year of reporting record figures after collecting $6.1 billion in revenue from January to September. That's up 22.7 percent from the revenue recorded during the same period last year. That means 2022's figures are likely to exceed the record $7.07 billion in gaming revenue generated by Strip casinos throughout 2021. But that growth won't carry over to 2023, Fitch warned.
Fitch gaming analyst Colin Mansfield said the potential revenue slowdown in the gambling industry, along with challenging capital markets access and a looming recession in the U.S. were among key issues highlighted by financial service panelists during the G2E conference. He noted that gaming operators were already seeing cracks in casino revenue numbers amid ongoing inflationary pressures and lower tourist numbers to Vegas.
Gaming Outlook Remains Positive
The overall outlook is still positive though, as operators remain in a strong position to "weather a pullback", with good free cash flow, higher margins, extended maturity debts, and lower balance-sheet leverage, Mansfield said.
Fitch also predicts a drop in hotel occupancy rates in 2023 due to a possible decline in leisure travel, but it will be offset by a likely growth in the Las Vegas convention industry. With convention attendance returning to normal levels, the city will be able to deal with an anticipated pullback in the leisure and visitation sectors, according to Mansfield.
Mergers and acquisitions are on course to hit a record low this year and that will continue through 2023, Mansfield said. At the moment, the biggest deal yet to be completed in Nevada is the $1 billion sale of The Mirage to Hard Rock Entertainment.
About the Author