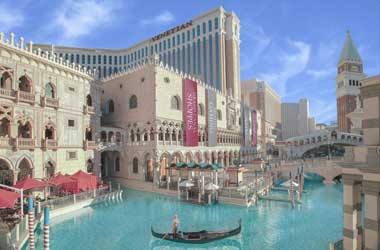 Summary
A total of $11 million is being provided by the casino to its employees.
All 7,000 full-time and flex-time workers receive a $1,500 bonus.
Employees were overwhelmed by the celebration and bonus amount.
An employee town hall meeting was hosted by Nevada's The Venetian yesterday, with an appreciation award program announcing a huge bonus for part time and full-time workers. All 7,000 employees will receive $1,500 as a bonus for their employment. This means The Venetian will be giving $11 million to its workforce as part of the appreciation program.
All Employees Receive the Bonus
The Venetian decided to give the same bonus amount of $1,500 to each of the employees, no matter their position or level of seniority. The bonus awards were announced during the meeting as a huge celebration took place.
The night included a performance by Freestyle Love Supreme, the new improv comedy show of the casino and dinner was served by restaurant partners of the casino. As the announcement was made, the crowd was overwhelmed. Casino officials played music and confetti cannons went off after the announcement.
Patrick Nichols, the CEO and president of The Venetian, was on hand during the meeting. He stated that it was a great honor to lead the 'spectacular group of team members into the bright future'. The year has been incredible, and Nichols said it would not have been possible without the teamwork and dedication of the employees.
Distribution by Operating Subsidiary
The awards of appreciation were part of a distribution of $620 million by Apollo Global Management, a private equity firm. The company is privately held, so the plan had to be reviewed by the Nevada Gaming Control Board and Nevada Gaming Commission to ensure the financial stability of the company.
During November regulator meetings, representatives from Apollo said that employees of The Venetian would receive bonuses this year. At the time, the amount was not specified. The company wanted to surprise its employees during the meeting with the amount.
The resort casino was able to provide a generous bonus to all its employees due to its performance this year. The casino outperformed the yearly expectations and the higher-than-expected results in the financial department meant the company could provide something to their employees.
The resort was acquired from Las Vegas Sands Corp. for $6.4 billion and since taking over, Apollo has done well. The team at Apollo has been able to maintain high room and occupancy rates and continues to be successful today.
Over the next three to four years, the company plans to invest $1 billion in the property. The money will be used to remodel guest rooms and expand as well as upgrade the casino floor, adding more slots along the way.
About the Author