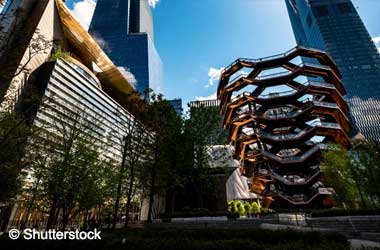 Summary
The plan would create a huge hotel space on the far west side of Manhattan.
The casino is in the second phase of the resort plans.
Around 20 restaurants and a theater are part of the bid.
Related Companies (Related Cos.), a developer from Hudson Yards, is working with Wynn Resorts to bring a casino resort to New York City. A bid for the far west side of Manhattan has emerged from the duo with huge plans for a hotel and casino space.
The developer wants to bring a large resort hotel to the area, offering around 1,500 guest rooms. Included in the mix will be close to 20 restaurants, a theater, and nightclub. Alongside the development, the company plans to provide more affordable housing for locals and create a school.
Details of the Casino Plan
Related and Wynn Resorts are vying for one of three licenses that are up for grabs in the downstate area of New York. Competitors to the bid include SL Green Realty Corp. who is working with Caesars Entertainment Inc. and Jay'z with his Roc Nation.
If Related is chosen as the license holder, the construction process would begin the second phase of the $25 billion Hudson Yards project. The location is at 11th Avenue and the Hudson River. The first phase of the project will include skyscrapers for offices and residential towers, plus a shopping mall.
A Casino In the Second Phase
The casino is not in the first phase, which might be a deterrent to the licensing process. Will officials want to go ahead with a plan that will not include a casino in the very beginning? It will be interesting to see how the licensing process fares and if the plan by Related will be a contender.
It is expected that a casino resort in the western yards area would draw visitors to the area. The Jacob K. Javits Convention Center is close by and Related feels that its property would bring more travelers to the convention center as well. The center just recently completed an expansion that cost $1.5 billion to complete.
Officials of the bid feel that the casino resort would generate the highest economic development for New York. The region needs economic development and jobs, so what better way to kickstart than a huge development project in New York City by Related and Wynn Resorts.
It is expected that regulators in New York will announce a request for proposals next year and then winners will be selected for casino licensing by the end of 2023. It will be interesting to see who is in the running and which companies receive one of the three available licenses.
About the Author