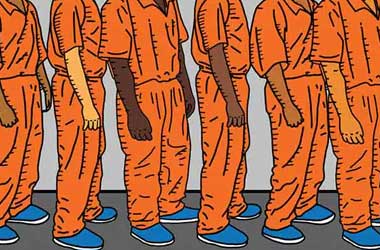 Summary
Governor Kathy Hochul must decide if she will sign the legislation.
Current laws ban casinos from hiring a convicted felon.
Conservatives are against the measure.
Legislation regarding casino gaming in New York is currently under review by Governor Kathy Hochul.
A bipartisan bill S1443B passed within the Senate and Assembly earlier this year and just now made it to the governor for consideration. The measure would allow casinos in the state to hire convicted felons in various positions within the properties.
The governor can choose to veto or sign the measure. Current laws in the state ban casino operators from hiring anyone who has been convicted of a felony in the past.
Conservatives Are Not in Favor of the Measure
While the bill would provide a larger employee pool for the state's casinos, it is not something that conservative lawmakers want to see happen. Critics of the idea feel that it is just another example of how democrats are trying to use their bleeding heart via a criminal friendly plan.
Gerald Kassar, the chairman of the Conservative Party, commented that the idea is just wrong. It is another example of the Legislature imposing a liberal policy in an area they should not touch. It seems conservatives are afraid that hiring convicted felons would have a negative effect on the industry.
The potential law change comes at a time when the state's casinos are having a hard time finding individuals to work in certain positions. Casinos such as Rivers in Schenectady cannot seem to find people to work in cleaning and food service areas.
Details of the Measure
Assemblyman Gary Pretlow and Senator Joseph Addabbo sponsored the measure and hope to see if signed by the Governor. Pretlow stated that the goal of the bill was to open up employment opportunities in the casinos. People deserve to have a second chance and they should not be denied employment because they were convicted of a drug felony.
The legislation does have certain restrictions that will remain in place based on current regulations. Disqualifications are still in place for applicants who want a casino license or job that were previously convicted of embezzlement, theft, perjury, or fraud.
The gaming commission will continue to be able to deny a license after they review an applicant's history. This key point puts the power in the hands of the regulators. If an individual is applying and they do not feel them fit, then denial is still an option.
Casinos seem to be for the legislation, including operator Rush Street Gaming. The company was asked by The Post if they were in favor of the proposal, and they said they are not opposed to it. The group supports the commitment of legislature to provide second chances and strengthen the workforce of the state.
About the Author