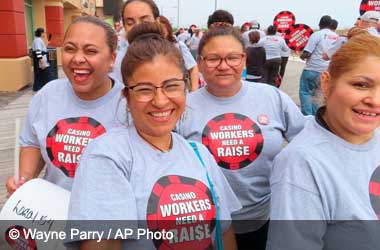 Local 54 of the Unite Here union members will vote to strike against some or all of the Atlantic City casinos.
Contracts between the union and gaming venues expired almost two weeks ago.
Talks have yet to produce new agreements for union members.
Casino employees in Atlantic City that are part of the Local 54 Unite Here union are tired of waiting on new contracts.
The union has been in negotiations with Atlantic City casinos for some time now and it has been almost two weeks since the current union contracts have expired. The members of the union are now set to vote tomorrow on whether or not a strike will take place against some or all of the casinos in the area.
The issue of a strike has arisen due to the fact that casinos have yet to sign new agreements with Atlantic City casino workers.
Bethany Holmes, a spokesperson for the union, stated that the group has been saying for some time that employees need a real raise. This is one of the main goals of the negotiation process to ensure that employees are being paid a living wage, especially during this time of inflation.
Holmes stated further that the vote to strike is one that will take place if it is deemed necessary. There is no target date for a walkout by casino employees, but the July 4 holiday weekend is coming up. This is one of the busiest times of the year for the casinos, so it would be a crucial time to walk out if the union wants to see action by the operators.
A yes vote by union members does not immediately trigger a strike. It gives the negotiating committee of the union to power to call for a strike if they deem it appropriate.
Will Casino's Pay Up?
The union wants to see its members earning more money and they want new contracts created ASAP. The dispute comes at a time when casinos and online gaming providers in New Jersey are earning more than ever. Land-based and online gaming is booming, but operators say the revenue totals are misleading.
Casinos say they can only keep around 30% of online and sports betting revenues. The remaining amount goes to third-party partners that help with service needs. In-person revenues are crucial to the overall earnings of operators and some casinos have yet to reach pre-pandemic revenue totals.
For now, the union has been able to come to an agreement with Bally's and Ocean Casino Resort. Larger companies like Caesars and MGM have yet to reach new contract decisions. Perhaps the potential for a strike ahead of the 4th of July holiday will speed things up.
About the Author