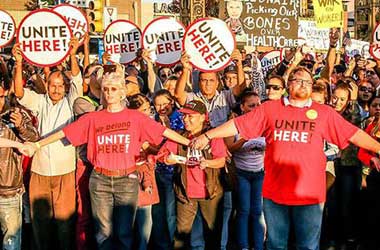 Summary
The picket line will begin on the Boardwalk in front of the casino.
Contracts expire today with no clear indication that casinos are ready to negotiate.
Caesars Entertainment and MGM Resorts International are the main holdouts when it comes to new contracts.
New union contracts for casino employees in Atlantic City have yet to be signed and employees have had enough. Today, the Local 54 of Unite Here has plans to picket outside the Tropicana, a casino owned by Caesars Entertainment. Caesars along with MGM Resorts International, have yet to sign new agreements. The two companies own four of the nine operating casinos in the region.
The Picket Line
The goal of the picket line is to try and push the operators to continue with negotiations and make a decision. According to Union president Bob McDevitt, there is still a long way to go before a contract is signed. MGM and Caesars have yet to comment on the matter.
Union members will protest today and then must decide via vote if they will authorize a strike. This vote must take place before a walkout can occur. McDevitt says that such a vote has yet to be scheduled by the union.
The union has been working on negotiations for more than a month, hoping to see a significant pay raise with the new agreement. It is unclear how much the employees are asking for, but stress has been placed on the current rate of inflation and how employees need more compensation in order to live.
Casinos Say They Can't Afford the Wage Increase
President McDevitt has pointed out the strength of casino earnings in Atlantic City in the third year of the pandemic. Casinos have reported strong revenues from land-based services as well as online and sports betting operations. In 2021, the state recorded over $4.2 billion in gaming win from casino, online, and sports betting.
Seems like that number would indicate that a pay raise could happen. But the casinos say otherwise. The gaming operator argue that the online and sports betting earnings are not what they seem to be. The casinos can only keep 30% of the earnings and the rest goes to third-party partners.
The casinos say that the earnings from retail gaming is a stronger indicator to how the industry is faring. In 2021, the industry saw retail earnings of $2.5 billion, which is still below the 2019 totals.
Employees disagree of course and they want to see change. On the Facebook page of the union, employees are posting their testimony to the workplace and say they are working harder but falling behind.
It will be interesting to see if the picket line will force either Caesars or MGM to take action and complete negotiation deals with the union. If not, we may see employees vote to strike in the hope that the move will spur change.
About the Author