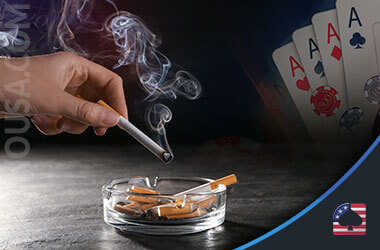 Those who have watched casino-themed movies from the 1970s and 1980s surely remember iconic scenes showing players smoking freely on the gaming floor. Even in real life, poker players puffing a large cigar or slot enthusiasts lighting a cigarette before having another go at spinning the reels were not uncommon sights. However, over the years, smoking policies in US casinos started to change. 
In the following sections, we'll cover all you need to know about the current legislation on smoke-free areas in casinos across the US and talk about the venues that still allow smoking on their premises.
Casinos That Allow Smoking
There are several states that still allow smoking on casino premises. However, all of that is subject to change, as we've seen with Atlantic City and New Jersey legislators pushing to pass a smoking ban in AC's casinos.
While waiting for this situation to play out, you can check out our list of the top 5 casinos in the United States that still allow smoking.
Are You Allowed to Smoke in Casinos?
We've already mentioned that the stance on smoking on casino premises has changed. This shouldn't come as a surprise, as the commercial casino industry has grown significantly since its humble beginnings — and, with it, the number of players, as well. The trend of casino gaming may have started in New Jersey and Nevada, but it soon spread to the entire country.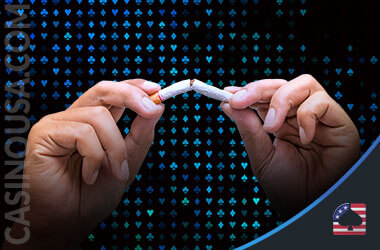 In fact, the casino industry generated gross revenue of $30 billion in 2020 alone. Since so many people visit land-based venues, it's no wonder that the smoking rate in these establishments is extremely high compared to other places. In fact, one study showed that 50% of the casinos sampled had very high air pollution levels despite adequate ventilation measures.
As a result, a number of smoke-free policies have been implemented over the last few years. That is why many casinos across the US don't allow smoking on gaming floors any longer, while some have designated areas for smokers. Then, there are places like Las Vegas, for instance, that allow smoking in those areas where minors are prohibited according to the Nevada Clean Indoor Air Act from 2006.
The Centers for Disease Control and Prevention's State Tobacco Activities Tracking and Evaluation are the ones that oversee three types of gaming facilities, with the exclusion of establishments on Native American land, card or slots-only rooms, and off-track betting venues.
Therefore, the answer to the question of whether you're allowed to smoke in casinos is a complex one. While some facilities ban smoking outright, others have either designated areas or ventilated rooms.
About the Author