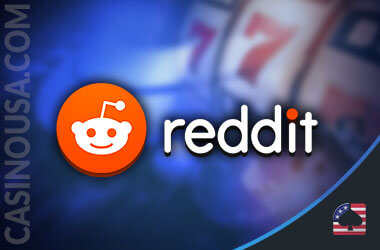 Reddit has quickly become one of the most popular sites in the world, mainly thanks to its platform, covering the latest news and trends. Millions of users swarm to the forum to share thoughts and discuss various topics.
Let us fill you in if you've somehow managed to miss this phenomenon. Reddit consists of various communities, a.k.a. subreddits, with their own pages dedicated to specific themes or interests. 
It should come as no surprise then that there are plenty of gambling communities on Reddit. While many view gamblers as loners and their favorite pastime as a solitary pursuit, this couldn't be farther from the truth. Most like to discuss strategies, share their favorite gambling sites, or chat with their peers.
With that in mind, we have compiled a list of the best gambling Reddit communities for you to explore. Here you'll find only the creme-de-la-creme of subreddits, so buckle up and let's get started.
r/gambling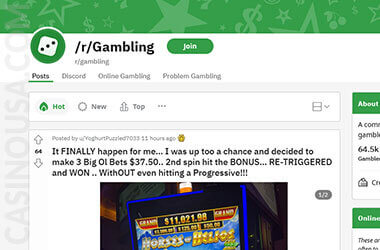 Let's hit things off with the basics — Reddit Gambling covers all the essentials gamblers would want in a community. You'll find everything you need right here, from promotions, questions, and recommendations to actual testimonials and real-life feedback.
The r/gambling community has around 64,000 members, which speaks volumes of its appeal.
Members can share their stories without being judged or ridiculed. You'll see an extraordinary tale or two while scrolling through the endless posts. There are also plenty of pictures of winnings, discussions of strategies, and tons of hilarious gambling memes.
This subreddit takes pride in being well-moderated, as there isn't any unnecessary spam, and users who try to stir up trouble are immediately banned.
Reddit Gambling is an excellent option if you're just dipping your toes into online communities. If you want something more catered to your personal gambling preferences, worry not because there are plenty of options out there.
r/blackjack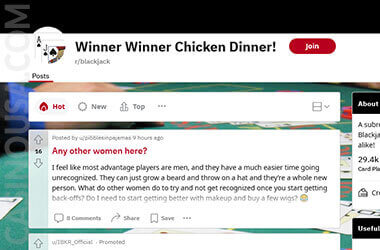 If you opt for this community, you'll be entering a space "dedicated to the card game Blackjack for counters and casual players alike."
Reddit Blackjack (r/blackjack) boasts a little over 29,000 members and is a place for all fans of the casino classic. Since blackjack is relatively easy to learn and is one of the games with the lowest house edge, plenty of players want to share their experiences.
While the rules of 21 may be simple, mastering the game is an entirely different matter. Gamblers spend years trying to perfect their blackjack strategies, which is why a community like this comes in handy.
This subreddit is thriving, as its users post daily, discussing strategy and popular casinos and asking intriguing questions. This is a good option if you want to join an active community with helpful members.
r/roulette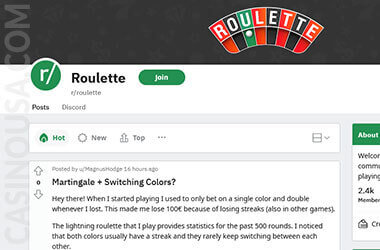 Roulette is another popular casino staple. There's something so thrilling about waiting for the ball to drop and assume its final position.
The r/roulette has a community of 2,300 members which may not be as large as the previous one, but it's certainly tight-knit.
Roulette-enthusiasts often discuss strategies and past experiences with tournaments and even issue warnings on avoiding scammers.
This subreddit isn't that active (there are several posts per week), but you'll still stumble upon some gems that can help you improve your performance.
r/poker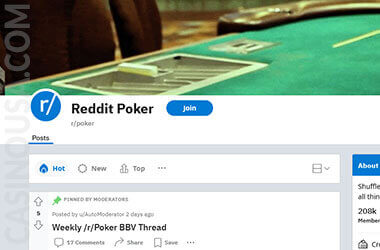 With 207,000 members, the poker subreddit is undoubtedly the hottest gambling forum on Reddit.
This should not be shocking to anyone, as poker is probably the most popular card game in the world. Numerous tournaments, dozens of variations, and poker rooms for high rollers attest to that. Therefore, it's no wonder that r/poker's discussion boards are as busy as a bee all day long.
Players discuss various topics, from famous tournaments like the World Series of Poker (WSOP) to their day-to-day casino stories.
Some look for local casinos with low minimums, while others share entertaining photos of poker nights with their friends. You'll also come across many valuable tips and tricks that can help you improve your strategy or perfect your poker face. Either way, there is never a dull moment in this Reddit community.
r/onlinegambling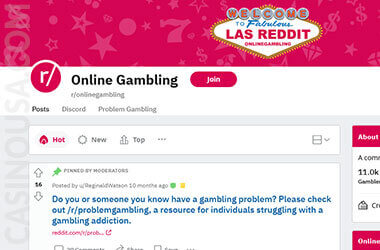 In the past few years, the iGaming industry has seen tremendous growth. Therefore, online casinos are springing up like mushrooms. If you're new, it's easy to get swayed by the flashy designs and seemingly attractive offers, only for them to come up short. It only stands to reason that a subreddit dedicated to this branch of gambling exists.
You'll learn the ins and out of online casinos in the r/onlinegambling subreddit, as there are more than 10,000 members able to lend you a helping hand.
There are numerous threads on:
Online operators
Software providers
A long with everything you need to know to make your online gambling experience enjoyable.
r/problemgambling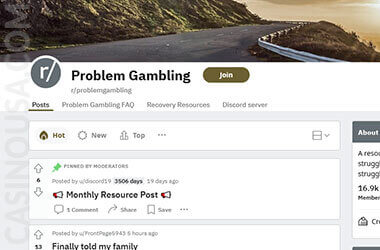 Gambling isn't all rainbows and butterflies, though. Sometimes this fun pastime can turn into a problem. The sooner players acknowledge and address the potential hazard, the better. This subreddit is packed with individuals who are more than willing to help their fellow gamblers.
The community of almost 17,000 gamblers is there to direct you toward relevant helplines and organizations that are more than prepared to tackle this problem.
Users also share their experiences and success stories that may help others feel less alone. Sometimes people can lose perspective when gambling, and this community can steer individuals in the right direction.
Final Takeaway
Reddit is an excellent resource if you're looking for fellow gambling enthusiasts to discuss your favorite casino games, perfect strategies, or which online or land-based casinos to visit.
It may not be the best place for thorough research, but you're bound to come across a hidden gem or two. And if not, at least you know you'll have a blast whichever of these communities you choose.
Keep Reading: Best Online Casino Sites Recommended by Reddit
About the Author