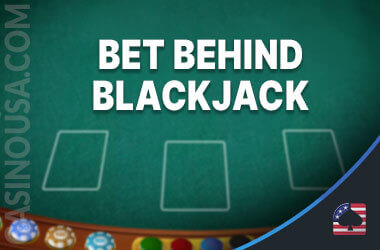 Live blackjack has become extremely popular in the past few years. During the ongoing global pandemics, players find alternatives to their favorite land-based casino games. The main issue with their online counterparts is that they sometimes lack the thrill and authenticity.
However, live blackjack is definitely an exception because it relies on advanced streaming technology while the game takes place in a studio. Actual dealers handle the cards and players can even communicate with one another through live chat.
What's more, top providers constantly come out with innovative releases that have a wide range of side bets and favorable table limits.
One thing that sets apart live blackjack from all other online variants of this popular card game is the bet behind option.
We've already mentioned that live blackjack and its land-based counterpart have a lot of things in common. Unfortunately, limited seating is one of the characteristics they share. Tables fill up in a blink of an eye, and if you're not quick enough, you'll lose your seat. 
This is where bet behind comes into play, as it allows you to gamble on other players' hands. If you're intrigued by this concept and want to learn how it works in a game of blackjack, continue reading. 
What Is Bet Behind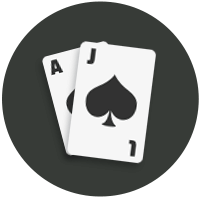 Let's start with the concept of bet behind. If you're familiar with the rules of blackjack but not with this feature — no need to panic; we've got you.
You probably haven't heard of this option, as it's only available in live blackjack. However, this option allows you to bet on another player's hand while waiting for a seat.
Land-based have something similar called back betting, which is essentially the same thing. This feature has been around for decades, so it's no wonder bet behind is so popular among online casino visitors.
How It Works
Now that we've covered the basics let's see how this option actually works.
Needless to say, you need to be a registered member of an online casino to join a game of live blackjack. If you already have an account, make sure it's funded. The last thing you should do is pick a live blackjack variant you want. 
If the table of your choice is filled up, you get an opportunity to bet behind. Many operators also display an indicator that shows the number of games won by the participants. Based on this, you can pick a player to place a bet behind. Once you are officially behind the player, you can start betting.
Remember – you have to follow the player's pattern because you're just following the original game. Even if you think other strategies may work better, there's nothing you can do. 
One thing you may be wondering since you have no control over the player's actions is what's going to happen if the player decides to split, double down or surrender.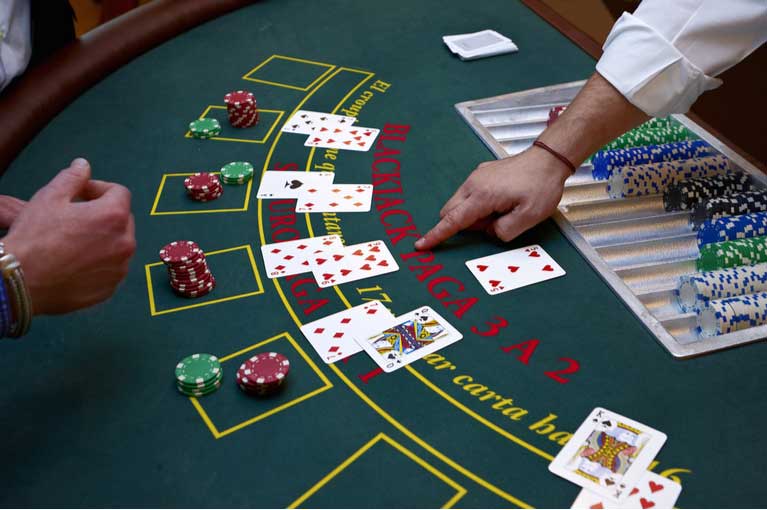 When it comes to surrendering, it's pretty straightforward — you'll lose half of the stake if the person you're betting behind decides to surrender.
As for the other two options, this is where things get a little complicated. Precise rules vary from one casino to another. However, in most cases, players betting behind will have a chance to stick with one hand or opt-out of doubling their stake.
Online casinos usually automatically match the main player as the default setting, so if you want to change this, you'll have to do it on your own somewhere in the Settings section. 
Our tip is to explore all of the terms and conditions of bet behind in advance. This way, you'll know how to react, and you won't be caught by surprise in the middle of the game. 
How to Bet Behind in Blackjack – Quick Summary
Here is a quick summary of how to bet behind in blackjack:
Log in to your online casino account and make sure it is funded.

Head over to the 'live blackjack' section.

Pick a live blackjack game you want to join. If it is full, you will get an opportunity to 'bet behind'.

Use the information given to you at the table to pick a player you wish to bet on. Some casinos show the number of times a player has won next to them to help you with this.

Once you pick a player, you can choose to bet behind them. From here, you can start placing bets!
Pros and Cons
Even though there are plenty of live blackjack tables to go around, it's important to know the advantages and disadvantages of the bet behind option. This way, you'll know if it suits your playing tendencies and if it's even worth taking.
Let's have a closer look at the pros and cons of betting behind.
No waiting — One of the greatest advantages of placing a bet behind is not having to wait for a table. This is often the case with low stake tables, so now you can get in on the action while waiting for an available seat. 
Favorite dealer— With the bet behind option, you'll always have the chance to sit at your favorite croupier's table. However, playing against different dealers can be beneficial to you, so feel free to mix things up from time to time. 
Great stats— With bet behind, you get to see players' stats and determine whether they're on a winning streak. 
Double the action— Some casinos will allow you to bet behind even while you're at a table. This means you can make two bets in one round and thus increase your odds. 
Worse house edge —Even if you put a lot of thought into picking a player, there's no predicting what they may or may not do. Thanks to strategies, experienced blackjack lovers can lower house edge down to 0.5%. However, since you have no control over the player's actions, this might never happen. 
Lack of control— If you cherish being in control, you probably won't enjoy the bet behind option. Many players enjoy the thrill this table game has to offer, and they won't get it by lurking in the background. 
Potential large losses— Although you can win large sums of money, you can also lose twice as quickly if the dealer is on a roll. 
Strategies
Blackjack is a game well known for its strategies, and you can indeed have one while placing a bet behind. Although your options are limited due to the nature of this feature, there are still some things that will help you come out on top. 
First, you need to be comfortable taking the backseat. Then, study all the stats carefully because your win depends on it. The more medals and wins the player has, the higher your chances of scoring.
Remember that you won't have to double down or split when the player does in most online casinos, and if they lose, at least you'll finally get your seat. 
About the Author