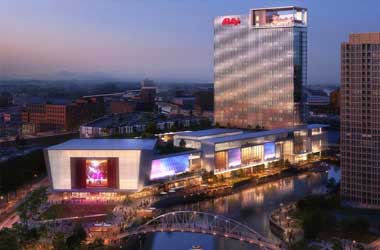 Summary
Bally's traffic study for Chicago casino under scanner
Alderman questions authenticity and validity of report
Bally's commissioned its own traffic study for the casino site
A new traffic study commissioned by Bally's Corporation was dismissed by Alderman Brendan Reilly for being inaccurate.
Reilly demanded an independent, third-party review of the report that approved the company's casino plans in the Medinah Temple building in Chicago's River North neighborhood. The traffic study was commissioned by Bally's and hence raises questions.
Study Findings Show No Traffic Problems At Casino Site
The report made several claims regarding Bally's River North plans, citing the area's ability to handle the heavy traffic from the casino. It also highlighted that the existing garages in the neighborhood would be sufficient for parking. Both assertions were heavily contested amid concerns about traffic congestion and criminal attacks on the road and train stations in River North.
Reilly expressed his shock at Bally's giving itself a clean chit by not citing relevant facts in its commissioned report. Despite claims that 40% of patrons would use the Chicago Transit Authority (CTA) services, or would choose to bike and walk instead of driving to the casino, the CTA remains an unsafe and unpopular choice due to criminal attacks. Moreover, expensive parking around the casino would prompt patrons to go for rideshare and chartered buses which would increase the traffic.
The Alderman recommended citing acute figures on rideshare and bus traffic, instead of vague projections. He sought a full review of the study to investigate the data. Besides this, SOAR and the River North Residents Association (RNRA) voiced their displeasure with the traffic study in their respective statements. The RNRA said that it was still reviewing the commissioned study.
Bally's Medinah Temple proposal is a part of Chicago mayor Lori Lightwood's casino plans for the city. Several critics, including Reilly, panned the Bally's-commissioned traffic study, deeming it insufficient. Local community organizations such as the Streeterville Organization of Active Residents (SOAR) were also unsure about Bally's ability to operate the casino. SOAR president Deborah Gershbein recalled that the company denied having any experience running a casino in a major city in July 2021.
Reilly Miffed With Casino Plans
Mayor Lightwood's push for Bally's casino plans in the River West area miffed dissenters like Reilly, despite overwhelming support from other aldermen. The Medinah Temple is in Reilly's ward. The alderman was also opposed to a permanent casino in the 27th ward.
The CTA and Lightwood's office did not respond to the concerns raised on the matter. Before choosing Medinah Temple as a site, no study had assessed the traffic situation in the River North area.
About the Author