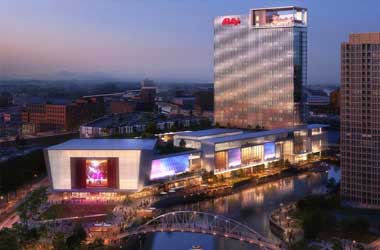 Summary
Bally's plans to create a $1.7 billion riverfront casino-resort.
A temporary casino may open by next summer.
Plans may be stalled if the application process takes a year to complete.
It is now up to Illinois gambling regulators if Bally's Corporation will open a casino in Chicago. The company filed its application for licensing this week with the state Gaming Board in the hopes of obtaining approval for a riverfront casino. Bally's plans to spend $1.7 billion to create the project.
The licensing process is the next step for the company to see its large entertainment complex come to life. The project will be located in the River West corridor and was approved by Mayor Lori Lightfoot.
Moving Forward with a Temporary Casino
The city hopes that the gambling company will be approved to open a temporary facility next year at the Medinah Temple. The location is in River North and if approved, would provide gambling revenues to the region much quicker than the permanent facility.
In 2019, a state law paved the way for a casino license in Chicago as well as five others across the state. The Gaming Board can take up to a year to review the application submitted by Bally's which would of course delay the opening of the facility.
Regulators in Illinois tend to take their time when it comes to vetting applicants for casino licensing. The most recent case involves the Hard Rock Casino Rockford. The property just opened last fall after waiting two years for licensing to be approved by the board.
The Board blames the pandemic for delays in the review process as well as the competitive bidding process for the license. It may help Bally's that it already operates a casino in Rock Island, which is known by the Gaming Board.
Get It Done
The mayor wants the Board to review the proposal as quickly as possible so the casino construction can get underway. It is not expected to start offering services until 2026, but once it is open, the casino should provide around $200 million each year. The money will be used to shore up police and firefighter pension funds.
Bally's recently completed and upfront payment of $40 million to Chicago, one caveat of the proposal that helped Bally's win the bid.
The company will also provide $25,000 to the state for application fees. Vice president of corporate development, Christopher Jewett, commented on the process, stating the company looks forward to working with the Board and the city to bring the destination resort to the area.
We shall see in the coming weeks if the Board mentions allowing a temporary casino and just how long it might take for the project to gain approval.
About the Author