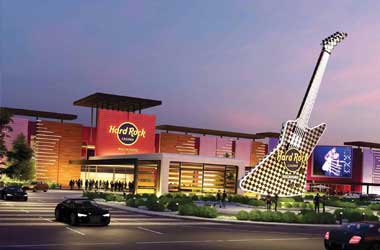 In 2019, Gov. J. B. Pritzker signed off on a bill to overhaul Illinois' gambling industry.
The bill not only legalized sports betting in the state but also expanded casino gambling.
The Illinois Gaming Board (IGB) made some key rulings this week regarding the development of a Hard Rock Casino in Rockford.
Hard Rock Casino at Rockford has received approval from the gaming regulator to move forward with the construction process. IGB also approved a list of 51 investors, and a supplier license for the Hard Rock project. The list of approved investors includes three executive positions at Hard Rock Casino.
The key people named by the Illinois Gaming Board are Brent Johnson, President of Ringland-Johnson Construction, Sunil Puri, Founder and President of Midwest Rockford Group, and Marc Jacobson will hold executive positions, with another 51 board-approved investors in the scheme.
Eyewitness News WTVO WQRF
Marcus Fruchter, administrator of the IGB said the rulings will now allow the project to go ahead by requesting approval to start construction on both the temporary as well as the permanent facility.
815 Entertainment LLC, comprising several investors will be the owner of the new Hard Rock Casino in Rockford while 815 Beltway Holdings which purchased the property at East State Street will rent out the property. 815 Beltway Holdings is led by Dan Fischer, who is the chief investor and owner of Dotty's gambling cafe chain.
Hard Rock Casino – Details
The gambling watchdog has given its approval for a temporary casino location and a permanent casino location. Mr. Fischer and the group can now start work on the temporary venue which is located at 610 N. Bell School Road. The building is to undergo massive renovation to the tune of $8.8 million to become a temporary casino that will hold 735 slot machines, and two dining areas. This will be functional for two years and until completion of the permanent casino complex.
The location of the permanent casino is to be where Clock Tower Resort once was. It is situated on East State Street near the entrance to I-90. The permanent casino is expected to cost around $311 million and will start with 1,500 slot machines, 55 gaming tables, and a sportsbook. All of this will be located in a 65,000-square-foot area.
There is also provision for non-gaming entertainment as the developers will construct a 1,600-seat venue for Hard Rock Live concerts and make provision for three restaurants and two quick service cafes.
About the Author