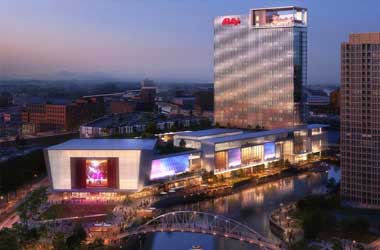 Summary
Bally's beat out Hard Rock International and River's casino plans.
Full City Council and Illinois Gaming Board approval is needed before the project can move forward.
A meeting with city officials is scheduled today along with a town hall later in the week.
It seems as though the new Illinois casino for the Chicago area will be created by Bally's Corporation. Mayor Lori Lightfoot announced the selection last week, but there are still many steps to take before the project can become a reality.
Bally's plans to create a casino at the Tribune Publishing plant and the $1.74 billion project must be approved by the Illinois Gaming Board and the City Council before it can begin. Meetings are scheduled this week including a public town hall, which should see the opposition turn out to show their disdain for the project.
City Council Meeting and Town Hall This Week
Today, the City Council and Special Committee connected to the project will meet to discuss the casino plans. Questions will be asked about the project to help with the voting process. All members of the City Council must be involved in the process as it moves forward, and some are not in favor of Bally's as the chosen license operator.
On May 12, Chicago will host a public town hall at the UIC Isadore and Sadie Dorin Forum. The community town hall will take place from 7-9 pm. Representatives from the city will be on hand as well as from Bally's to share information on the project as well as answer any questions.
More Details About the Chicago Casino
As Bally's was selected by the mayor, many questions have popped up among the local community about the developer's plans. When the casino will open is still up in the air, but it will most likely take many years before the venue is up and running.
A temporary location will be set up at the Medinah Temple, but this has drawn criticism. Some aldermen are not happy with the decision since the venue is owned by Albert Friedman, and he was a campaign donor of Lightfoot. The aldermen say the temporary location changed after Lightfoot received a donation from Friedman.
The mayor's camp says that Friedman has always been a supporter of the democratic party in Chicago as well as Illinois, so it is not unusual that the mayor receive contributions from a supporter.
While the temporary location is in place, Bally's will work on its permanent structure at the Tribune Publishing Plant located in the River West neighborhood. The site needs to be redeveloped, so major work will be involved to set up the structure.
Once finished, the casino resort will be home to a large gaming floor, outdoor park and music venue, theater, 500-guest room hotel, six restaurants, and food hall.
About the Author