35

casinos found based on your search.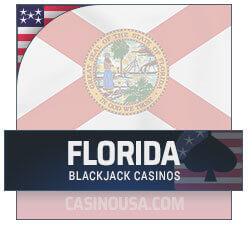 The Sunshine State hasn't regulated online casinos yet, so players can find Florida blackjack online only on offshore sites.
Is Blackjack Online Legal in Florida?
According to Chapter 849 of the Florida Statutes, playing in an unlicensed land-based gambling venue is a second-degree misdemeanor. Nevertheless, there are no specific regulations regarding online gambling in the state. Due to this, Florida-based casino enthusiasts can play blackjack games on offshore sites almost without any restrictions.
As long as you use one of the legitimate offshore sites, you can play online blackjack for real money safely, without breaking any laws. Since these sites operate outside of Florida and US jurisdiction, there are no federal or state gambling laws prohibiting individual players from accessing these platforms or playing on them.
Note: Residents of Florida who are 18 or above can play online blackjack by signing up with one of the offshore sites.
Florida Blackjack Laws
If you are planning on playing blackjack in Florida, make sure to familiarize yourself with the following laws first:
Best Online Blackjack Real Money Casinos in Florida
Based on the laws mentioned above, Floridians have a couple of legal blackjack options. We'll discuss online, land-based, and cruise ship gambling in more detail.
Online Blackjack in Florida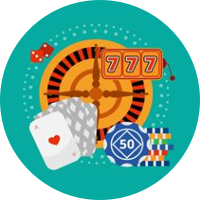 Gambling is regulated under Chapter 849 of the Florida Statutes. Even though Floridians can play in offshore casinos since these sites are in a legally gray area, they are strictly prohibited from operating online casinos in the Sunshine State. As a result, it may be difficult to find many real money blackjack games online.
Sweepstakes and social sites that host their own blackjack variations are one option. These platforms are perfectly legal since you can't play for real money on them. Still, the points you have earned can be used to enter a real prize competition, which is 100% permitted.
You can also play in offshore casinos. These are widely popular among residents of Florida. They feature multiple blackjack variations that can be played for real cash or in demo mode, free of charge. Demo play could certainly turn out to be a useful solution, especially for those who want to learn the basics.
Offshore sites are fairly popular in Florida, especially because no misdemeanor charges will be filed against the players who choose to go down this path. Therefore, Florida can be considered a friendly state for offshore gambling.
Land-Based Blackjack Casinos in Florida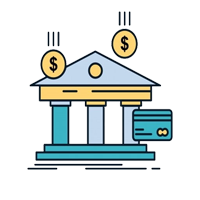 Since the Sunshine State has banned all commercial gambling establishments, the only legal land-based option is to visit a tribal casino.
Currently, you can play blackjack in one of the seven Seminole casinos and a single Miccosukee casino, as they have a monopoly over blackjack and similar house-banked games.
These gambling venues offer a plethora of blackjack variations, such as:
European Blackjack
Perfect Pairs
Zappit Blackjack
Double-Deck Blackjack
Single-Deck Blackjack
Aside from that, they feature luxury hotels, fine dining, and various entertainment options that attract people from around the world.
In the past, no Florida gambling establishment was allowed to offer blackjack games legally. However, a special compact between Charlie Crist, who was the governor at the time, and the Seminoles led to an important change in 2010. The original compact granted the Seminoles exclusive rights to offer slots and table games such as blackjack.
Casino Cruise Ships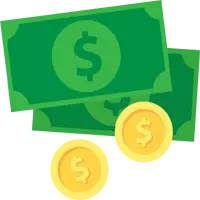 Day-cruise facilities in Florida allow gamblers to board ships that sail the international waters (the Atlantic Ocean and the Gulf of Mexico) where casino gambling is legal. They can accommodate from 150 to 1,800 passengers.
Players can enjoy blackjack, slots, craps, roulette, and poker. Plus, some of these ships offer complimentary treats, such as free parking, drinks, and entertainment.
Legal Online Real Money Blackjack Casinos in Florida
Fortunately, Floridians can play blackjack online for real money without breaking any laws. In fact, they have had access to several reputable offshore gambling sites for years.
If you are interested in some reliable operators, check out the list of real money blackjack casinos at the top of the article and choose your favorite.
How to Register for Online Blackjack in Florida
The registration process in an online casino is pretty simple. We have created this step-by-step guide that will help you sign up without a hitch:
Choose a licensed and reputable casino and go to its official website. 

Make sure the casino you've chosen accepts residents from Florida by checking the T&C page or consulting its customer support.

Fill in the registration form by submitting your personal information, including your email, phone number, and address. 

Create a unique username and password.

Send your account to the casino and wait to receive a verification email. 

Verify your account by clicking on the link from your email.

Log in to your account, and you'll be good to go!
Florida Real Money Blackjack Casinos
There are numerous online casinos that cater to players from Florida. Still, not all of them offer the same gaming experience, quality, and security.
If you are having trouble finding the right casino that fits your needs and preferences, we suggest that you check out our list of top Florida casinos at the beginning of this article.
Whichever you decide to register with, you can count on a great game selection provided by top-notch software providers. These operators feature various blackjack variations (both RNG and live dealer), including Spanish 21, Double Exposure Blackjack, Triple 7 Blackjack, and many others.
Florida Blackjack Rules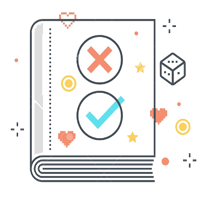 Playing blackjack in Florida is legal, thanks to the state laws that allow Native American tribes to operate their casinos. The Seminole Tribe of Florida has exclusive rights to live dealer blackjack, whereas the other venues are allowed to offer electronic versions of this game.
The blackjack versions vary across different Seminole casinos. Still, these are some of the most common blackjack rules you will find:
Florida Blackjack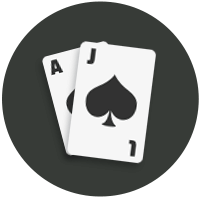 Traditional blackjack pays 3:2.
The dealer hits on soft 17.
Seminole casinos do not feature late surrender. This is important, as blackjack variations that feature late surrender have a 0.6% lower house edge compared to the ones that don't.
A player can double down on any two cards except aces.
Only in double-deck pitch games will players be able to double down on 8, 9, and 10.
If you want to know more about how blackjack is played, here is a detailed rundown of general blackjack rules.
Live Dealer Online Blackjack in Florida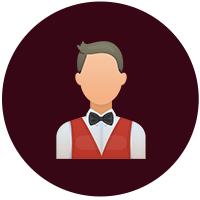 Since online gambling hasn't been regulated in FL yet, players can enjoy their favorite live games on some of the offshore gaming sites. These websites operate outside of Florida and US jurisdictions. As a result, no laws prevent you from betting and winning real money.
Live dealer games are the most popular option for players seeking a human element when playing real money games online.
Luckily, the most popular online casinos among Floridians offer numerous live blackjack variations. Regardless of the variant you pick, you can expect full audio and video streamed to your device in real-time. So, worry not — you will get to see the turn of every card and interact with professional live dealers.
The fans of live dealer experience can have a look at our list of reputable online casinos. These operators offer all the features we have mentioned above. Therefore, make sure to check them out.
List of Popular Blackjack Casinos Florida
With 80 land-based casinos on offer in FL, you will never feel bored. These establishments provide an excellent gaming experience, great dining, professional dealers, and an extensive game selection.
FL casinos also boast a wide array of games, including slots, poker, blackjack, dice games, roulette, lottery games, and sports betting. The fans of blackjack will get to choose among numerous versions of the game — from classic variations to Spanish 21, Blackjack Switch, and Double Deck Blackjack.
We have put together a list of top-rated casinos in FL that stand out from the crowd. Take a look at the following venues that offer blackjack games:
Useful Guides for Florida Players
Florida online casinos games can be difficult to understand especially with all the laws that govern their use, so here are some excellent, easy to read and in-depth guides to get you started.
Conclusion
As we have seen from this article, the gambling laws in Florida are quite complex. However, there are still plenty of gaming options available to both residents and tourists of the Sunshine State.
Currently, Seminole casinos and gaming sites are the only legal brick-and-mortar places where you can play blackjack. Another option includes offshore online casinos. Many of them are reputable platforms and accept players from Florida. Even though they operate without the Sunshine State's permission, players can enjoy their hobby on these websites since the state constitution says nothing about offshore online gambling.
FAQ
Is blackjack legal in Florida?
In Florida, the only places where you can play blackjack legally are Indian casinos because they operate under different gaming laws. Players can also book a trip on many casino cruises departing from Miami. Since these ships take you into international waters, the gambling laws are not applicable there. Another option is playing blackjack in offshore licensed online casinos that operate outside the US.
Can I win real money playing online blackjack in Florida?
The state of Florida hasn't regulated online gambling yet, and you won't find any licensed online casinos there. However, as long as you register and play in one of the offshore casinos above, you can enjoy online blackjack for real money without violating any laws.
How much do blackjack dealers make in Florida?
Blackjack dealers in FL earn approximately $12–$13 per hour, while their annual average pay is around $26,444. Although it may seem that they receive a minimal salary, they get much more money from tips. Places that don't allow tipping offer dealers higher wages. Naturally, their salary depends on their skill level, certification, location and size of the casino, and years of experience.
Are my blackjack winnings subject to taxes in Florida?
According to IRS, all blackjack and other gambling winnings in Florida are taxable. They are seen as an improvement of one's financial situation regardless of where the gambling took place.
About the Author