35

casinos found based on your search.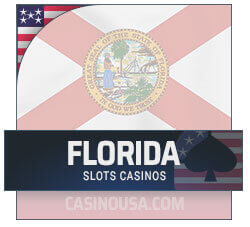 However, aside from retail tribal casinos, other gambling forms are legal in the Sunshine State, including sports betting (as of 2021), pari-mutuel wagering, and the state lottery.
As a result, gamblers have limited options for online slots for real money in Florida.
Are Slots Legal in Florida?
To some, Florida may not seem like a state with strict laws. However, this couldn't be farther away from the truth in regards to online gambling. Slot machines were deemed illegal only two years after they first appeared in 1935.
However, players can spin the reels on cruises since 1984. These excursions allow Florida residents to enjoy gambling as soon as they enter international waters.
Once the 1988 Indian Gaming Regulation Act was introduced, Florida tribes claimed exclusive ownership of land-based casinos, including slot machines. In 2010, Governor Charlie Crist entered a compact with the Seminole Tribe, allowing them to run slot machines over the period of 20 years.
As of 2004, pari-mutuel wagering facilities in Broward and Miami-Dade counties can also legally host slot machines.
Unfortunately, online gambling is still frowned upon. Online casinos do not operate from within the state, and people intending to launch online gambling sites are prosecuted. As a result, Florida gamblers can only enjoy real money slots in tribal brick-and-mortar casinos.
FL Slot Laws
If you want to know more about Florida gambling laws, read more on them below:
How to Register for Online Slots in Florida?
If none of these gambling facilities are close to you and you opt for an offshore online casino, you'll have to go through a simple registration process to become a member. Here's a step-by-step guide to walk you through it:
Pick a recommended and licensed online casino and load the site.

Click on the Join Now, Register, or Sign Up button to kickstart the process.

Fill out the form with the necessary information (name, username, address, email, phone number, date of birth, password).

Complete the registration and verify your account, if necessary. 

That's it! Now, you can top up your account and enjoy the best real money online slots.
Best Slots in Florida
In case you hadn't noticed, Florida lawmakers don't encourage gambling. Only tribes, cruise casinos, and pari-mutuel betting facilities can legally operate land-based casinos and offer various gambling options, including:
Slot machines
Blackjack
Baccarat
Poker
Consequently, Floridians can choose between tribal casinos, riverboat casinos, pari-mutuel betting places, or offshore gambling sites if they want to play real money slot games.
Legal Online Slots in Florida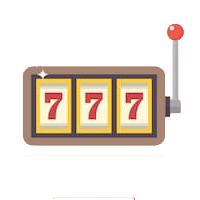 As previously mentioned, Florida does not have any legal online casinos, and we can't say whether that will change soon.
Many US states have reviewed their gambling laws due to the ever-growing popularity of online casinos, but Florida is still not one of them.
Due to the anti-gambling stance of Governor Ron DeSantis and his predecessor Rick Scott, there haven't been any attempts to legalize online gambling in Florida. In 2013, Scott signed HB 155, banning internet sweepstakes cafes. Unfortunately, many politicians continue to equate online gambling with sweepstakes cafes, creating an anti-gambling environment in the state.
In 2021, FL lawmakers approved a new gambling compact with the Seminole Tribe, giving it exclusive rights to offer sports betting in the state, both retail and via online apps. However, there has been no mention of online casinos or slots.
Floridians can enjoy online slots in licensed offshore casinos with sweepstakes and local online casinos out of the equation since no laws explicitly prohibit it. However, make sure you find a secure and reliable operator with a valid gambling license. Playing slots for real money on unlicensed sites can be risky.
Land-Based Casinos in Florida With Slots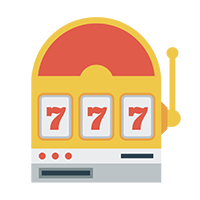 Florida laws are quite explicit when it comes to gambling. Slots are only available on tribal land, riverboats, or pari-mutuel racetracks — any other option is illegal.
Currently, there are seven tribal casinos and dozens of racetracks and riverboats that allow Flodirians to enjoy playing real money slot machines.
Florida Online Slots for Real Money Play
Most offshore online casinos welcome players from Florida. However, as we mentioned, not all of them are a good choice. They operate outside of FL jurisdiction, meaning you can't rely on the state's legal system to support you if something goes wrong.
Thankfully, we have scoured the web and come up with a list of high-quality and licensed websites. If you look at our top selection, you'll find reliable sites that provide a range of exciting real money slot games from industry-leading software developers. On top of that, these casinos host secure payments, fast payouts, efficient customer support, creating a fantastic gambling environment.
Once you choose your favorite, you can create an account by following our guide above, transfer some funds using various banking methods (cards, e-wallets, cryptocurrencies), pick your preferred online slot, and enjoy!
Casinos With Slot Machines in Florida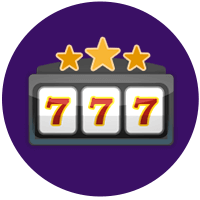 Florida residents have access to thousands of slot machines in pari-mutuel facilities, tribal casinos, and riverboats. In this section, we'll focus on brick-and-mortar gambling institutions.
Currently, tribes operate seven land-based casinos — Seminole Tribe of Florida owns six, and Miccosukee Tribe of Indians runs one. They host high-quality slots, blackjack, baccarat, and poker rooms.
Aside from the casino, patrons can enjoy a variety of restaurants, spas, shops, clubs, creating a luxurious gambling experience.
Unfortunately, roulette and craps are still out of the question. The 2021 gambling compact would allow tribal casinos to offer these gaming options, but it has hit severe opposition, with the federal judge ruling the compact invalid.
Nevertheless, you can still enjoy the most popular games and have a memorable casino adventure. Here are the seven casinos where you can play top-notch slots for real money:
Useful Guides for Florida Players
Florida online casinos can be difficult to understand especially with all the laws that govern their use, so here are some excellent, easy to read and in-depth guides to get you started.
Conclusion
The fate of online casinos in Florida is uncertain, but passionate gamblers have a couple of options at disposal, at least when slot games are concerned. They can choose to play in one of the available luxurious tribal casinos, pari-mutuel betting facilities, or riverboats.
Alternatively, Floridians can opt for licensed and reputable offshore casinos listed above.
FAQ
Are slots legal in Florida?
You can legally play slots in land-based tribal casinos, riverboats, and pari-mutuel betting facilities. However, their online counterparts are still not legal. Thanks to the 1988 Indian Gaming Regulatory Act, land-based slots are available to Florida residents.
Can I win real money playing slots in Florida?
Yes, you can. Apart from the land-based casinos, offshore online gambling sites also offer a range of exciting slot games. So, since Florida laws don't allow online gambling, you can always check out the offshore casinos and play slots to win real money prizes.
Are offshore casinos available to players in Florida?
Yes, international online casinos operating outside the US accept players from Florida. In theory, the state has yet to address the online gambling issue, so offshore casinos might be considered illegal. However, no one has been prosecuted or arrested for playing in offshore casinos.
Will Florida legalize online casinos in the future?
Possibly. However, introducing online casinos to the state won't be easy, especially with Gov. Ron DeSantis opposing it. The state recently failed to broaden its sports betting space and break into the iGaming scene. Therefore, we can't say whether online casinos will soon become a reality in Florida.
About the Author