35

casinos found based on your search.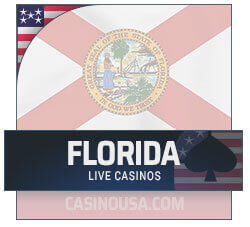 Fortunately, Florida Statutes don't particularly address online games of chance, which leaves a small legal loophole for players and gives the most passionate ones a chance to join offshore gambling sites.
So, if you're looking for top-rate live casinos online in Florida, you're on the right page.
We've scoured the internet and discovered the best online casinos with live dealer games, so you wouldn't have to waste your time.
Are Live Casinos Legal in Florida?
As an integral part of online gambling, live casinos in Florida must comply with laws related to playing live casino games on the internet. However, the Sunshine State doesn't really have laws that precisely address online casinos of any kind, including the ones streaming live dealer games.
That said, we can't interpret live casinos as either absolutely legal or completely forbidden. The truth about the legality of live dealer online casino games is somewhere in between, and it's defined by current laws written to shape Florida's gambling activities in general.
FL Live Casino Laws
The main documents that regulate the gambling industry in the Sunshine State are Florida Statutes 849.01 et seq. and 550.001 et seq. According to these documents, the only legal forms of gambling in Florida are the lottery, land-based tribal casinos, and pari-mutuel wagering, permitted to anyone 21 or older.
In its definition of gambling, Florida mentions enrolling in any type of card game or game of chance via any device, with a final prize being money or other valuables. This could potentially include computers and mobile phones that imply gambling on the internet, but no such thing was specifically mentioned.
Moreover, there's been no case of Florida's department of justice prosecuting anyone for playing live casino games in online casinos registered outside the state.
Still, if you'd like to leave anything to chance, here's the legal chapter on gambling in FL you may want to read:
Best Live Dealer Casinos in Florida
The outstanding live dealer casino experience can only occur in elite live casinos. Yet, finding one such casino you can join without breaking any laws is easier said than done.
Luckily, we've got inside information on the matter, and you can find it in the paragraphs below.
Online Live Casinos in Florida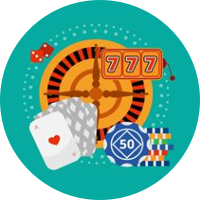 If you read current Florida laws on gambling, you won't find any references related to legal FL live casinos operating on the internet.
Consequently, your search for live casinos with a license issued by FL regulatory bodies will not reveal any operating live dealer gambling sites.
Nevertheless, this doesn't mean live casino aficionados from Florida don't have options when it comes to this popular pastime. A plethora of live casinos operate outside the Sunshine State, and they hold licenses from the most reputable online gambling jurisdictions, which makes them perfectly legal and trustworthy.
Some of the best offshore live casino operators have become a part of our list you can find on this page. Apart from offering top-drawer games and many other perks, these casinos accept players from Florida and ensure safe and exciting live casino sessions.
Land-Based Casinos With Live Cameras in Florida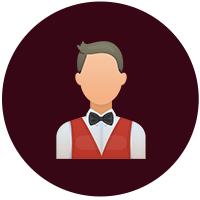 Unlike online gambling, land-based casino games are on and going in Florida. The state is home to several brick-and-mortar gambling venues, most owned and operated by the Seminole or Miccosukee tribes.
In addition, there are racinos and riverboat casinos where players from Florida can try their luck on a variety of popular games.
While some of these gambling rooms offer many live dealer games, none have a live webcam that would stream the action online.
Once again, if you're into casino games led by real dealers and you want to play them from the comfort of your home, offshore casino sites are your best option, especially those listed on our website.
How to Register for Online Live Casinos in Florida
Even though offshore live casinos keep their virtual doors open for players from Florida, you'll still need to open an account there prior to playing any live dealer games. This shouldn't worry you, though, as you'll be surprised by how simple the whole process is.
Pick any online casino with live dealer games from our page.

Hit the registration button to start the registration process.

Provide the required information, such as your full name, email address, date of birth, username, and password.

Finish the registration and verify your new account if necessary.

Log in to your chosen online casino, make your first deposit, and have fun!
Popular Live Dealer Casino Games in Florida
If you're from Florida, you can forget about playing live dealer games in legal online casinos until the state decides to change its stance on online gambling. Luckily, you can still join offshore gambling sites that offer all live dealer game types you can think of.
The most popular live casino game players from Florida pick in online casinos is blackjack. The game comes in several different variations, while European blackjack is a common choice.
Another frequently played game is roulette, which also has numerous versions, with the American one staying on top followed by other picks.
Baccarat is one more game players from Florida often choose in offshore casinos, together with famous versions of poker, craps, and a couple of exciting game shows.
Useful Guides for Florida Players
Florida online casinos games can be difficult to understand especially with all the laws that govern their use, so here are some excellent, easy to read and in-depth guides to get you started.
Conclusion
In short, live casino gambling in Florida is currently in the so-called gray zone. General gambling laws feature Florida's current definition of this activity, but it doesn't contain any specific mentions of gambling on the web. This has enabled players from the Sunshine State to access casinos licensed offshore and get their fair share of fun.
So far, we haven't heard that the state of Florida prosecuted any players for joining an offshore live casino. Due to this fact, our team has assembled a list of gambling sites with the best live dealer games for you to explore and have fun as if you were in a real-time casino.
FAQ
Are live casinos legal in Florida?
No, Florida's regulatory bodies are yet to approve live casinos.
Are there any licensed land-based casinos with live dealer games in Florida?
Yes, there are. Florida is home to several tribal casinos in which players from this state can enjoy popular casino games.
What is the legal gambling age in Florida?
The legal gambling age in Florida is 21.
Can I play live casino games on offshore sites in Florida?
Yes, you can. Although Florida hasn't legalized live casino games yet, it doesn't have any laws that strictly prohibit them either. Therefore, feel free to check our list and find the best offshore live dealer casino on the market.
About the Author