35

casinos found based on your search.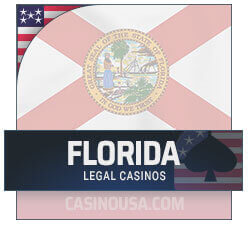 Are Online Casinos Legal in Florida?
As mentioned above, online casinos aren't regulated, but they aren't illegal either.
Still, this doesn't mean Florida has no laws at all when it comes to gambling.
In fact, land-based gambling is heavily regulated. Therefore, let's check out what laws govern the gambling industry in FL.
Florida Casino Laws
The gambling scene in Florida is licensed and regulated with Florida Statutes 849.01 et seq. and 550.001 et seq. The forms of gambling that are currently legal in FL are retail casinos, pari-mutuel wagering, and the lottery.
Technically speaking, Florida defines gambling as "playing or engaging in any type of card game or game of chance using any device in exchange for money or another thing of value." Now, this is not allowed to happen outside the legal gambling area. But still, the laws aren't enforced in practice, meaning no people were prosecuted for joining an offshore casino.
If you still want to be 100% certain you won't get into trouble, make sure to get in touch with your lawyer and discuss this. 
Note: The legal age for casinos in Florida is 21.
How to Register at a Legal Online Casino in Florida
If you have no experience playing casino games in an online casino in Florida, make sure to explore the step-by-step tutorial below and kickstart your journey as an online casino player.
Find the right online casino for you — First of all, you need to pick one of the available online casinos featured on this page. Feel free to examine them carefully and select the one you like the most. All casinos are checked for security and fairness by our team of online gambling experts.

Open an account — Go through the registration process by providing the required information and confirming your registration.

Make a deposit — Use one of the available options to make a deposit to an online casino of your choice.

Claim the welcome bonus — Almost every online casino features a bonus for new players who decide to join and make a deposit. Claim the bonus to start with more money/free spins.

Play games — Select a game you like, place a bet, and start playing.

Withdraw your winnings — If you are lucky, you'll win money. Therefore, you may need to use one of the withdrawal methods to cash out your winnings from the casino to your bank account (or e-wallet/crypto wallet, depending on the type of withdrawal method you decide to use).
Best Legal Casinos in Florida
Finding a good casino is vital if you want to have the best gambling experience. Ideally, the casino should have a license from a legitimate gambling commission.
Let's see what the situation is like for legal casinos in Florida and what you can do to find the best ones. 
Legal Online Casinos in Florida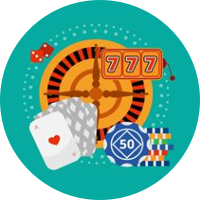 As explained above, legal online gambling still isn't available in Florida. As a result, you won't find any online gambling sites featuring a license from an official gambling regulator in FL.
Whether Florida will legalize online gambling remains to be seen. Right now, some forms of it are legal, including sports betting, but there have been some obstacles — for instance, there are still no actual apps for making bets.
The same could turn out to be true for online casinos in the future. Even though Florida has a great gambling tradition, there are far too many legal hurdles and red tape to go through before we can see the first official FL-licensed online casino.
On the other hand, you're left with a wide selection of offshore licensed online casinos. We picked out the best ones for FL players and featured them on this page. Each of these operators is licensed by a reputable international regulator and features a range of games from industry-leading providers. Feel free to select one and start your Floridian online gambling journey right away.
Legal Land-Based Casinos in Florida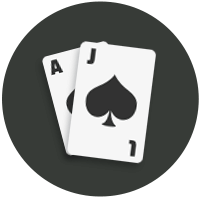 If you've ever been to Florida, you probably know that there are a couple of top-notch retail casinos where you can access a wide range of games. Perhaps the most popular one is the guitar-shaped Seminole Hard Rock Hotel and Casino Resort.
In fact, some of the most popular casinos in FL are actually tribal casinos, including the ones owned and operated by the Seminole tribe, which is behind the Hard Rock brand.
On top of that, there are many racinos in the state and a couple of cruise ships that host riverboat casinos.
All in all, there might not be any commercial casinos, but there are plenty of gambling options for the residents and visitors of Florida.
Useful Guides for Florida Players
Florida online casinos games can be difficult to understand especially with all the laws that govern their use, so here are some excellent, easy to read and in-depth guides to get you started.
Conclusion
To sum up, online casino gambling might not be legalized in Florida at the moment, but that doesn't mean you're out of options, as there are plenty of great offshore casinos.
Still, if you're not 100% certain whether to play in them, make sure to consult your lawyer first. So far, there have been no legal consequences for players who decided to play in international online casinos.
FAQ
Which online casinos are legal in Florida?
Right now, the only form of online casinos that players in Florida can access are offshore casinos.
Are there land-based casinos in Florida?
Yes, there are approximately eight tribal casinos, as well as numerous racinos in the state, meaning Florida residents have plenty of land-based options.
What's the legal age to play casino games in Florida?
The minimum gambling age for playing casino games in Florida is 21.
Do online casinos offer bonuses to players in Florida?
Yes, the majority of online casinos that offer their services in Florida also feature bonuses for new and regular players.
About the Author