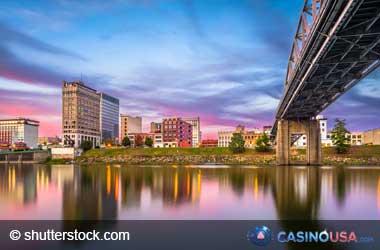 Summary
West Virginia does record online gaming business in October
Online gaming brings in $6.4 million in revenue
Gaming analysts expect another strong month in November
One of the reasons West Virginia decided to legalize online gambling was to generate more revenues for the state coffers.
Legislators who pushed for online gambling legalization will be happy to see West Virginia setting new iGaming records.
iGaming Brings In $6.4M In October
The online gambling market in West Virginia continues to improve with every passing month. West Virginia set a new online casino gaming revenue record in October as a total of $6.4 million was brought in. This was an additional $1.7 million when compared to September's numbers. The overall increase from Sep to Oct was 37 percent, which is quite impressive.
One of the reasons West Virginia set a new record in October was because they had a great start to the month with over $2.1 million coming in quickly. The Mountain State averaged over $1 million in gaming revenues each week which brought the total to over $6.4 million. The growth is clearly visible as there were two weeks in September where iGaming revenues did not cross the $900,000 mark.
Caesars Casino WV was the latest online casino operator to launch operations in West Virginia. However, they went live only towards the end of October and were not operating long enough to make any significant contributions to overall iGaming revenues in October.
Analysts Expect Strong Month In November
Gaming analysts expect strong numbers to show up in November as Caesars Casino WV would have been able to make a bigger contribution in November. The Greenbrier took the top spot in October as its two betting apps FanDuel WV and BetMGM Casino WV brought in $3.6 million of the total $6.4 million in revenue.
Second on the list was DraftKings WV and Hollywood casino which brought in $2.1 million which was similar numbers to what they did in September. BetRivers Casino WV in partnership with Mountaineer took the third spot, bringing in a total of $730,000 which was a $230,000 increase when compared to September.
With a new COVID-19 variant causing problems across the world, there are rumours that land based casinos in the United States could go into another lockdown soon. If that happens, expect online gaming revenue to get another boost.
About the Author