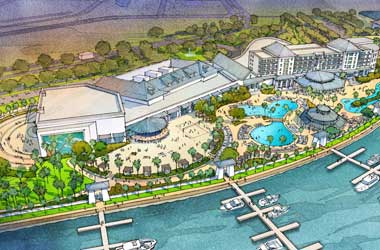 Early voting is underway for a new casino in the St. Tammany Parish region, with residents able to vote yes or no for the Camellia Bay Resort and Casino in Slidell.
The fight for and against the Louisiana casino is heating up, as commercials, billboards, and signs show up in the parish by opponents and proponents of the proposal.
Bringing Casino Gaming to Slidell
Peninsula Pacific Entertainment (P2E) would like to build the Camellia Bay Casino and Resort near Slidell, spending $325 million to do so. The casino project also offers the parish a sports complex, to the tune of $35 million. The developer will also fund the complex construction.
The casino has been backed by major influences, including Drew Brees, former New Orleans Saints quarterback. Brees plans to partner with John Folse, a celebrity chef, to build a new steakhouse within the gaming property.
Proponents feel the project will bring entertainment and luxury hotel stays to the parish, helping to develop jobs and tourism in the area. The casino would provide a new source of revenues that the parish could use to benefit the local community.
Camellia Bay Resort
For opponents, many feel that P2E is not a god company and that the casino would lead to an unsafe community along with other issues. Stand Up St. Tammany is a local group that is working fervently to campaign against the casino, along with the local Sheriff Randy Smith and police chief Randy Fandal. Both officials say that a casino could increase crime in the area. Even the governor of the state has spoken out against the casino project.
Will It Be Yes, or No?
Early voting started already and will take place through December 4. The actual election day is set for December 11. It will still be a few weeks before we know if the residents of the parish are for or against the project.
In the meantime, it is expected that both opponents and proponents of the project will be out in full force in the hopes that the votes go their way. The outcome really depends on what the local residents think about the casino as well as how they respond to the ads pushing one side or another.
Like in some political races, too much of a push can lead to a negative result. Proponents will need to think about how they approach the matter, and provide the right details, to offset the push by opponents, to get voters to approve the project. It will certainly be interesting to see how this battle unfolds.
About the Author