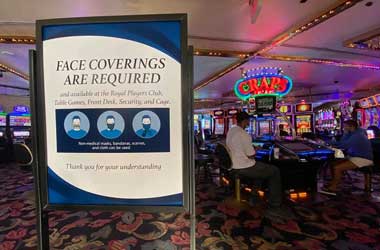 Summary
MGM Grand Detroit, MotorCity Casino, and Greektown Casino require face masks for entry.
Anyone over the age of 2 must wear a mask indoors.
Vaccination status does not play a role in mask wearing.
The number of positive COVID-19 cases are increasing in Michigan, with gambling operators making a tough decision to go back to mask-wearing. The three commercial casinos of Detroit do not want to gamble especially after reopening in August with patron and employee health so as of Tuesday, masks are required at all venues.
MGM Grand Detroit, MotorCity Casino and Greektown Casino made the change after the state issued the recommendation last week. Masks are not mandated in the state but recommended. The casino operators want to err on the side of caution, so they want all visitors ages 2 and up to wear a face covering.
Details of the Mask Requirement
Each of the commercial casinos will require patrons and employees to wear a mask despite vaccination status. In some cases, businesses will allow people that are vaccination to avoid wearing a mask. However, the operators are not taking any chances and want to avoid a major outbreak on-site.
For patrons or vendors that do not have a mask, one will be provided by the casino. The casinos offer hotels too, and visitors must wear a mask in public spaces while on-site. At the MotorCity Casino, the venue will not require masks within the Sound Board theater or during banquets at the facility.
FOX 2 Detroit
Detroit Mayor Mike Duggan applauded the casinos on the voluntary decision to add masks. The mayor said it makes sense and he would do the same if he owned a casino. It does seem like a smart move from a business standpoint, considering the casinos shut down for several months beginning in March 2020 due to the onset of COVID-19.
The casinos lost hundreds of thousands in revenues due to the closure and continued seeing a loss due to restrictions in place after reopening. By adding in masks, the casinos will hopefully avoid an outbreak and be able to stay operational without any issues.
Online Revenues Continue to Soar
As the land-based commercial casinos add the mask-wearing requirement, online operators are faring well. Revenue reports are in for October, showing that commercial and tribal online operators generated over $109 million in revenues for the month. A record-breaking number of sports bets were placed, with over $24 million in earnings generated.
Online sports betting companies took in more than $463 million in wagers, beating the previous record by over $100 million. For online casino operators, after free play was removed and promotions, just over $98 million in revenues were made.
Counting the October tax payments, online casino gaming provided $220.8 million in state and local taxes since opening in January.
About the Author