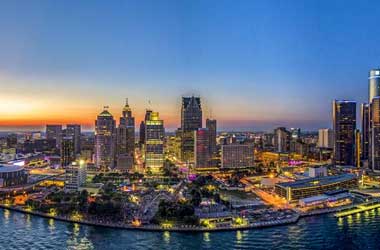 Casinos in Detroit have announced their plans to reopen soon, after nearly five months of being shuttered due to the COVID-19 pandemic.
MotorCity Casino Hotel and Greektown Casino-Hotel have already commenced operations from 05 August while the MGM Grand Detroit has stated they will be reopening their doors on 07 August.
All three casinos have highlighted the presence of strict health and safety protocols to ensure that COVID-19 does not spread on their floors.
Some of the more notable protocols include: a 15% maximum capacity in all gaming sections, increased distance between slot machines, banning poker tables and smoking, as well as requiring all employees and guests to wear face masks.
Despite the strict protocols which will likely impact the casinos' bottom line, many analysts expect that their reopening will lead to some form of relief to the financially beleaguered city of Detroit. Estimates for the city's lost revenues due to the casinos' closure stand at around $600,000 per day before the pandemic.
WXYZ-TV Detroit | Channel 7
While the casinos did not explicitly mention it, many industry observers expect that their hotels and event spaces will remain closed indefinitely.
The 15% maximum capacity figure mentioned by all casinos means that the MGM will be able to host just 1,500 guests, while MotorCity will be able to host 1,600. Greektown will be able to host just 1,400 guests at any one time.
The news also benefits thousands of casino employees. MGM plans on bringing back around 1,200 of their 2,800 employees while Greektown (2,000 employees pre-pandemic) and MotorCity (2,800 pre-pandemic) will bring back roughly half of pre-pandemic workforce.
Casinos' Plan Approved by Regulators
Marvin Beatty, the chief community officer for Greektown Casino-Hotel confirmed they have done their due diligence on the sanitation of all casino equipment in preparation for their reopening.
Beatty noted that, despite the difficulty of making sure all their chips, tables, and machines have been disinfected thoroughly, it was something that had to be done to ensure that they don't have to deal with the possibility of a COVID-19 outbreak on their premises.
All three casinos coordinated with the Michigan Gaming Control Board in formulating their reopening plans. Gov. Gretchen Whitmer was presented with the plan in June, which was then granted approval by public health officials in Detroit.
MGM Grand Detroit showcased its preparations in late June. According to their Casino President and COO David Tsai, they expect to operate profitably despite the pandemic continuing across the US.
About the Author