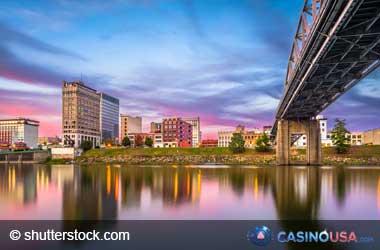 West Virginia's Governor Jim Justice has signed the West Virginia Lottery Interactive Wagering Act, making West Virginia the fifth state to legalize online gambling and online poker. This will now allow the five land-based gaming casinos to apply for a gaming license and start offering online gambling to residents in the state.
The fate of the online gambling bill was up in the air as Governor Justice did not sign the previous sports betting bill that he reviewed in 2018. He did not veto the bill and allowed it to come into law 15 days later through inaction from his side.
However, the Governor found the new Wagering Act to be balanced and gave it the green light by signing it!
With the governor's approval, West Virginia now joins Nevada, New Jersey, Delaware and Pennsylvania who are the only other states to have a legalized online gambling industry. The West Virginia Lottery will serve as the main gaming regulator for the state and is tasked with the responsibility of finalizing online gambling regulations by June 2020.
West Virginia will now be able to offer online casino games, online poker and sports betting going forward. However, don't expect this to happen very soon. Online gamblers in West Virginia will most likely have to wait until 2021 before they can enjoy legal online gambling.
While West Virginia technically has a legalized sports betting industry, bettors do not have any mode to place their bets as the only legalized betting operator in the state suspended their digital sports betting operation suddenly due to an issue between their technology partner and a third-party vendor.
WUSA9
Lottery Interactive Wagering Act
Land based casinos in West Virginia can apply for an iGaming license to offer online gambling services. To apply for an iGaming license, casino operators will have to pay $250,000. The license will be valid for a period of five years and can be renewed for another payment of $100,000. The West Virginia gaming regulator will also charge $100,000 for a platform and service management license while game supplier licenses are priced at $10,000.
The state will be taking a 15 percent tax from online gambling revenue. That's a pretty average tax rate and should attract several iGaming operators to set up online gambling operations in the state. Estimates put the first year of state gambling revenue to be around $11.6 million. The new law will allow anyone over 21 years and physically present within the state to gamble online.
About the Author