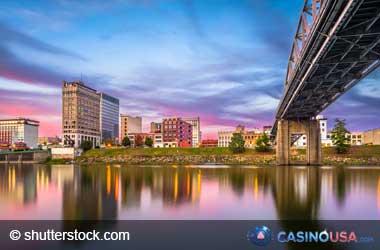 NFL teams aren't the only ones trying to prepare for the upcoming season. West Virginia's brick and mortar casinos are also in a race against the clock as they rush to get their sportsbooks set up in time for the 2018 football season.
With sports betting having been recently legalized by the state Legislature, casino operators are expecting crowds of West Virginians to fill their newly-constructed sports betting areas.
The Hollywood Casino at Charles Town Races is hustling hard to relocate the slot machines that once occupied the main floor to make way for a sports betting lounge that will have dozens of new big-screen televisions, a seating area, and betting windows which are sure to be very busy. The casino will have the advantage of having the only sports betting facility in the immediate area.
Once these West Virginian sportsbooks are setup and open for business, they should see a lot of business. With the exception of Pennsylvania, none of West Virginia's other neighboring states have embraced sports betting as of yet. Of course, high taxes and licensing fees in Pennsylvania might make operators shy away from the region. West Virginian casino operators are also hoping that those who visit the new sportsbooks will also help increase traffic at slot machines, table games, and even at the hotels and retail outlets.
In a statement, John Cavacini, president of the West Virginia Gaming and Racing Association said
We've got Pennsylvania, Ohio and Maryland are three big contiguous states from a population standpoint that are not going to be involved with this. We're going to have the rest of this year and all of next year for this on our own before the competition hits.
Sports Betting Impact Not Clear
Cavacini admits that the setting up of the sports betting industry in the state has caused more excitement than any other gaming activity has had in the past. However, he isn't very sure if the newly regulated sports betting industry will generate significant revenue for the casinos.
What the sportsbooks will do is transform the demographic that usually play at the casinos. Sports bettors are expected to be a lot younger and more educated in terms of sports betting, creating a new market for the casinos. The casinos will also have to market effectively in order to convince locals to quit wagering with their unlicensed bookmakers and switch over to regulated sportsbooks.
About the Author