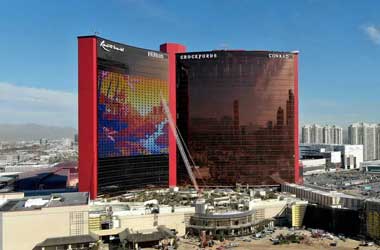 Resorts World Las Vegas is set to open its doors to the public on June 24, if all goes as per plan. There is a lot of buzz surrounding the opening of this mega-casino resort as its been years since a brand new casino opened its doors in Las Vegas.
Resorts World Las Vegas has announced that both its casino and hotel will feature advanced technology that will establish the casino as new generation casino.
Some of those advanced features include a new mobile app and cashless wagering so that players will have a fun and seamless gaming experience. Their goal is use innovative tech that changes the traditional gaming experience and establishes the casino as a tech trend setter in the gaming market.
KTNV Channel 13 Las Vegas
The star of the show will be the Resorts World Mobile App which was developed by JOINGO. The mobile app has provision to offer users seamless payment for all of the amenities that the resort features, whether it be at the casino or the hotel. Additionally, guests can check their account balances instantly with their phones and even get promotional rewards from the resort.
Cashless wagering will also go through the app and betting will be a lot easier. Customers only need to log in digitally to wager at any of the games on the floor, whether it is slots or table games. This cashless feature was developed with the help of Konami Gaming's SYNKROS. Resort World Las Vegas patrons will be able to make use of their own digital gaming wallet GamingPlay to fund their transactions.
Visitors will be able to deposit cash at a player services desk or via one of NEO Kiosks which come from NRT Technology. They can also sign up for Sightline's Play+. This can allow them to load funds from various sources like their bank account, credit card as well as their PayPal account.
Cashless Is The Way Of The Future
The push for cashless wagering is expected to be one of the biggest game changers on the casino floor. No need to worry about the chips anymore and going to the cashier to convert them to cash. Thanks to the digital tables, all chips are tracked with RFID so that players can have an accurate track of their funds and easily convert them.
The casino floor at Resorts World Las Vegas covers an impressive 117,000 square feet. Patrons will find a sportsbook, 1,400 slot machines and 117 table games on offer along with a dedicated poker room which has 30 poker tables.
About the Author