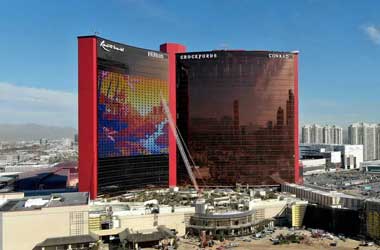 Resorts World Las Vegas will turn out to be the foremost casino to support cryptos on the Las Vegas Strip when it opens on June 24.
In this regard, the casino, owned by Genting, has entered into collaboration with Gemini, a cryptocurrency exchange and custodial service provider founded by twin brothers Tyler and Cameron Winklevoss. The definitive version of the collaboration will be completed in the weeks ahead.
In partnership with Hilton, Resorts World Las Vegas intends to offer 3,500 guestrooms and suites owned by three top-of-the-line Hilton brands, reflecting the largest ever multi-brand agreement in the history of Hilton.
Cryptocurrency exchange Gemini, established in 2014, offers a platform for buying, selling and holding cryptos such as Bitcoin (BTC) and Ether (ETH). the platform also facilitates earning DeFi tokens. Gemini's easy, dependable and safe products have been created to empower ordinary people.
8 News NOW Las Vegas
The visitors to the Resorts World Las Vegas casino will be able to utilize their Gemini cryptocurrency wallets to buy goods at the resort. However, visitors will not be allowed to gamble with cryptos as gaming regulators are yet to approve these kinds of transactions.
In order to use cryptos as a mode of funding game related transactions, the Nevada regulators need to provide an approval. Such an approval is expected in the long-term, but with a bunch of guidelines for processing and tracking.
David Schwartz, the University of Nevada Las Vegas based gaming historian, has opined that if the initiative of Resorts World gets good response from the public then other resorts may soon implement it.
Schwarts said
I think before you have all the resorts doing it, it will be a way for them to differentiate.
He further stated that Resorts World is currently testing the water. Even though, Resorts World Las Vegas will get the credit of being the foremost casino operating on the Las Vegas Strip to support cryptos, the D Las Vegas in Downtown Las Vegas on Fremont St. has been supporting cryptos for the past few years.
The billionaire CEO of Gemini exchange, Tyler Winklevoss, said that he is very much happy to join hands with Resorts World Las Vegas and study the integration of cryptocurrency into their visitors' experience. He further stated that the exchange will offer a phenomenal "21st century experience" to those visitors who either wish to purchase goods using cryptocurrencies at Resorts World Las Vegas or exchange their dollars into crypto.
About the Author