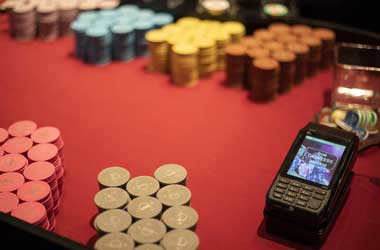 Summary
Nevada Gaming Commission asked to remove in-person verification requirement
Land based casino players should be given option for online verification
FinCen supports amendment to state gaming laws
Online casino players in Nevada have the option of verifying their identification and address from the comfort of their homes. They can do this by uploading their documentation via the online casino website or mobile app, and they get approval in a day or two at most.
Land based casino players in Nevada are required to show up in-person at the land based casino and get verified in-person by a casino employee. They have to show hard copies of their documentation before they are given access to cashless gaming.
Once land based players get approved in-person, they can then take advantage of cashless payments to play their favorite slot machines and table games. The in-person verification only needs to be done once for each land based casino but the process can be both time consuming and frustration as was the case when Resorts World Las Vegas recently opened and long queues were formed as new patrons looked to complete their in-person verification procedure.
KTNV Channel 13 Las Vegas
Nevada Gaming Commission Asked To Amend Laws
The Nevada Gaming Commission (NGC) was asked last week to review current gaming laws and make necessary amendments to ensure that there was uniformity in the verification procedure for online and land based patrons. Cashless gaming stakeholders like Sightline Payments told NGC that it made no sense to allow online players to complete their verification online and not give land based players the same option.
Sightline Payments filed a petition with the NGC in Sep 2020 asking the Commission to reconsider its gaming laws with regards to cashless payments. The NGC hasn't done anything about it so far because Federal Gaming laws require land based casino operators to complete in-person verification.
Legal counsel for Sightline Payments, Jennifer Carleston told the Commission that even the Financial Crimes Enforcement Network (FinCen) recognized the need for these gaming laws to be changed. FinCen believes that this amendment is not only necessary and appropriate but also something that they recommend.
The American Gaming Association (AGA) also pointed out to the Commission that currently eight states in America which includes Nevada allow mobile wallets. It only makes sense to proceed with an amendment that would allow land based players to take advantage of these mobile wallets when they play at their favorite land based casinos and not be subjected anymore to in-person verification.
About the Author