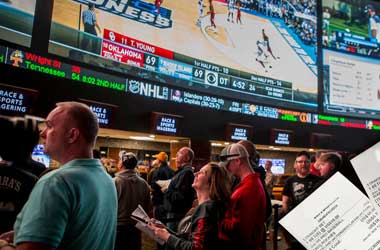 Maryland Live!, Ocean Downs Casino, MGM National Harbor, Hollywood Casino, and Horseshoe Casino all earned approval.
The Commission voted 5-2 in favor of approving licensing.
Mobile sports betting licensing will not take place for many months.
Sports betting is finally coming to Maryland.
The Sports Wagering Application Review Commission approved five casinos yesterday for licensing during its meeting. After a vote of 5 to 2, Hollywood Casino, Maryland Live!, Horseshoe Casino, MGM National Harbor, and Ocean Downs Casino are officially able to launch retail betting services.
Long Time Coming for Licensing
The five approved casinos had already been reviewed and approved for licensing by the Maryland Lottery and Gaming Control Agency. However, the Sports Wagering Application Review Commission also had to give its approval.
Commissioner Randy Marriner pointed out in the latest meeting that the state is losing out on potential revenues due to players traveling to nearby states to gamble. Players have plenty of options nearby, so they travel to be able to place bets on their favorite sports teams. The Commissioner wanted to see these five approved quickly and more in the future to get the industry rolling in the state.
WUSA9
Frank Turner was a vote against the approval during the meeting, stating that he feels more time should be provided for the 17 applications that are still under consideration to move forward. Turner wanted to see everyone start at the same time.
The casinos were able to gain approval first because they already offer gambling services. The venues are already regulated so it was an easier approval to give.
Pushing for the Licensing Process to Move Forward
The announcement of licensing comes just a few days after a group of casinos in Maryland sent a letter to the Sports Wagering Application Review Commission. MGM National Harbor and Horseshoe Baltimore were among those involved, requesting the commission get moving on the licensing process.
In the letter, the casino operators suggested that the Review Commission was failing to follow the licensing process as it is detailed in state law. The operators pointed out that those applying for Class A retail sports wagering licensing should be approved if they pass via the state Lottery and Gaming Control Commission, a process that many had already completed.
The Review Commission met on November 3, but no action was taken regarding the applications received from the gaming regulator. It seems the casinos letter boosted the Review Commission into action and now, five operators will be able to get started offering services.
While retail services should start any day, online options will not be ready until next year. It seems the focus is on in-person sports betting for now with mobile gaming on the backburner.
About the Author