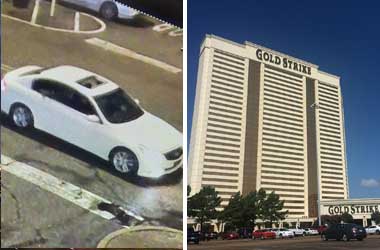 Summary
The shooting took place at 3:15 am.
Officers arrived on the scene after a 911 call.
Four victims were found with multiple gunshot wounds.
Tunica is a gambling town in Mississippi near Memphis, Tennessee that offers several casino properties. Visitors to the region are mainly those from neighboring states without gambling like Alabama. Players can easily enjoy an overnight stay and visit multiple casinos while on-site.
The area is relatively harmless, providing a safe environment for gamers. However, this weekend was a different story.
A shooting took place at the Gold Strike Casino on Sunday morning, with four people injured in the process. The incident took place in the parking lot.
Details of the Shooting
The 911 call came into the Tunica police department in the early morning hours around 3:15 am. Police arrived on the scene as quickly as possible after the caller said she was shot along with three other individuals in the Gold Strike parking lot.
Four victims were found laying on the ground when officers arrived. Police told local media outlets that security footage showed a white Infiniti on the scene, with a license plate that said CONILOU. The license plate was from Mississippi and was later determined to be stolen.
The suspects of the shooting were seen inside the car, noticing the four individuals as they left the casino. The security footage showed the shooting taking place before the car fled the scene. Three of the shooting victims have been released from the hospital. One person is still receiving treatment.
Police are asking anyone with information to contact the Tunica County Sheriff's Office.
Will the Shooting Affect Tourism?
The shooting involved four people and was the first time an attack of this nature possibly ever took place in Tunica. Of course, the area is not free of violence with the casino hit by armed robber last year, but this recent shooting may cause guests to pause before visiting the gambling town again.
It is unclear if the incident took place at random or if the individuals who were the victims in this case were targeted for a specific reason. Hopefully, more details will be provided to ensure that guests feel safe when traveling to the Gold Strike or other Tunica casinos.
The Gold Strike is a casino operated by MGM Resorts International and owned by Vici Properties. The casino operation were sold to Cherokee Nation Businesses last year, but the deal is not expected to close until later this year.
It will be interesting to see if the new owners take any additional security precautions due to this most recent shooting incident.
About the Author