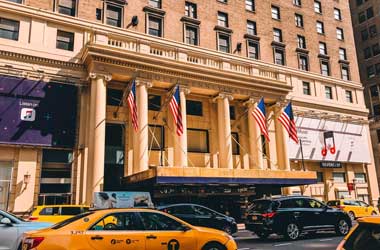 Summary
The company is the second-largest commercial landlord in NYC
Hotel Pennsylvania is set to be demolished and located in a redevelopment area.
A potential gaming partner is rumored to be Walton Street Capital
The race to receive a casino gaming license in New York City is on and several big names are already in the running. As the process continues, more companies are announcing potential bids to get in on the action.
Just recently, it was revealed that Vornado Realty Trust is considering bidding for licensing. The company is a commercial landlord in New York City that has property that could work well for the project.
Utilizing Hotel Pennsylvania near Madison Square Garden
A casino license may be in the works for Vornado, with its Hotel Pennsylvania property. The site is set to be demolished and is located in a prime area near Madison Square Garden. It is also a part of a redevelopment plan by Governor Kathy Hochul for a new Penn Station.
Vornado has plans to develop five office sites where some tenants will be removed, and buildings demolished. This includes the Hotel Pennsylvania building. The demo of the hotel will be finished by the end of 2023 and it might be a good spot for a NYC casino.
A spokesperson for Vornado told media outlets that the company is studying the possibility of applying for licensing, but there is no deal in place. The goal of any Vornado project, including Hotel Pennsylvania, is to ensure it meets economic development objectives and can produce improvements for the public and transit.
Who Would Vornado Team Up With?
Any company looking to bid on a casino license in NYC needs to have a gaming partner. Who would Vornado consider? Sources say that the company's chairman Steven Roth has spoke to Neil Gary Bluhm, a gaming tycoon from the Midwest.
Bluhm works with Walton Street Capital, a company that owns or is partnered with several casinos including properties in Chicago, Pittsburgh, and other major cities. The experience of a gaming partner will come in handy if Vornado wants to compete with the other brands vying for licensing in New York City.
If Vornado wants to be considered for licensing, the company will need to move fast. The first round of prospective bidder questioning is due in early February. It is unclear if applications will be accepted after February 3.
Several companies are already in the running for licensing including Caesars Entertainment, Wynn Resorts, Hard Rock, Thor Equities and Las Vegas Sands. It will be interesting to see who gets the go-ahead by officials and which plan will take fruition as legalized casino gaming heads to the Big Apple.
About the Author